The Sheep, Deer and Cattle Report: Lamb survival good in northern regions as docking starts, beef sector remains hot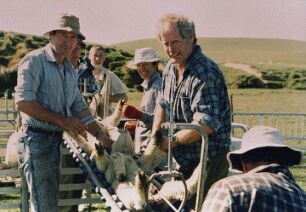 LAMB
Lamb schedule pricing has started to move again as Taylor Preston sets the early spring price standard with a 3 week offering of $6.70/kg.
With big percentages now more common the amount of very early season lambs of good weights is harder to source so these early premiums will only be achieved by a few specialist operators.
Old seasons lambs are now running out fast amid quiet demand, as Silver Fern Farms reports the Chinese are about to process their big supplies of stocks into winter hot pot meals.
Concerns are building within the industry that pelt prices have collapsed in the last two months and this may dampen returns.
Beef and Lamb NZ predict that numbers of lambs tailed should be similar to last year but animals to be harvested, down, as farmers rebuild hogget numbers depleted in NI areas by dry seasons.
Mild settled lambing weather will help confirm this forecast although many southern flocks have yet to drop and spring storms could still occur and consume some of the cream.
Docking has started in the north as have sales of ewes and lambs all counted as cropping farmers put spring crops in and cash up their winter livestock.
After years of big volumes of cull ewes being harvested, it is now predicted mutton exports will be well back and this should be helpful rekindling demand, as reports out of China suggest prices have peaked.
Prime hoggets numbers are building at saleyards as lamb shortages prevail as it is yet too early for new seasons lambs to activate the discount for these older animals.
WOOL
The latest South Island wool sale saw reasonable volumes of wool offered and market gains of 2% with Chinese interest driving the rise.
This pre lamb shorn wool would have been harvested in a settled weather period and quality of wools offered would have been above average with the mild winter helping.
The first of a limited merino offering sold at prices that were back 163c/kg on last year and that was a low for the year, continuing a trend where finer wools are failing to receive the lifts crossbred wools are achieving.
Voting has opened in the Wool levy referendum with strong lobbying from both sides in the debate on this issue.
------------------------------------------------------------------------------------------------------------------------------------------
Farms For Sale: the most up-to-date and comprehensive listing of working farms in New Zealand, here »
-------------------------------------------------------------------------------------------------------------------------------------------

BEEF
Strong demand in the US is fueling the continuing rise in beef prices, as NZ bull beef has reached the $3/lb mark for the first time and shows little signs of stopping.
Schedules lifted in both islands although processing volumes are low at this time of year and these levels are just optimistic predictors for most farmers.
Northern local trade prices are still rising as are values at saleyards as strong early feed conditions and low stocking levels are fueling the store market.
As yet little indications that more beef cross bobby calves have been purchased as rearing operations seem to be not for the faint hearted and returns often disappoint.
The latest drop in the value of the NZ dollar is helping stimulate these returns but more steady falls are needed to reach the 78cUS target in Beef and Lamb NZ's forecast predictions.
DEER
More strong schedule rises as prices move closer to the $8/kg level many farmers suggest is a minimum for spring chilled returns.
A milder winter and early spring will be helpful for those focused on reaching maximum numbers for the end of October deadline for chilled venison production as the UK  and the US shows increasing market interest at the expense of traditional European markets.
Velvet growth also responds well to good feed and milder weather and soon early north island heads will be being harvested for the first crop of a new season.
Marketers are quietly optimistic about this seasons prospects and a belief that more product could be handled by buyers will give producers optimism to lift production.