Council says some dairy farmers determined not to accept stewardship responsibilities to farm in ways that are compliant with Otago's most basic and most important waterway protection rules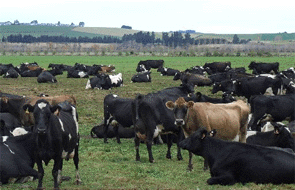 Media release by Otago Regional Council
Recent Otago Regional Council (ORC) dairy farm inspections have found disturbing examples of non-compliance with the Otago Water Plan prohibited activity rules.
ORC chief executive Peter Bodeker said recent inspections in South Otago had found a number of instances of ponding and effluent runoff into waterways.
"This is an extremely disappointing result, especially coming after the recent round of water quality roadshows attended by over 1200 farmers, and associated public information making it clear what the new water quality rules require of farmers", Mr Bodeker said.
"We have over many years advised farmers that council would not tolerate breaches of the effluent related prohibited activity rules," he said.
Prohibited activities were land-based operations that can grossly degrade waterways.
"It appears there are some dairy farmers who are determined not to accept the stewardship responsibilities they have to farm in ways that are compliant with Otago's most basic and most important waterway protection rules," Mr Bodeker said.
At the very least, all dairy farms in Otago should have sufficient effluent storage, and all effluent irrigators should have safety systems fitted, he said.
ORC is moving to a new risk-based system of dairy farm inspections as part of the implementation of new water quality rules. Using this approach, farms that have not implemented sound practices can expect frequent inspections and stringent enforcement action. Additional inspections will also be made to farms in areas where water quality is degraded.
"The technology is there to ensure that effluent does not pond and runoff to waterways. It is up to farmers to obtain it, put it in, train staff to use it, and maintain it in good working order," Mr Bodeker said.
"It is not acceptable for any farmer to wantonly pollute Otago's waterways through neglect or mismanagement," he said.
When dairy farmers reduce their environmental risks through improvements in infrastructure, the frequency of inspections by ORC staff will decrease.
However, if they continued to breach the Water Plan rules and degrade Otago's waterways, they would end up spending money on court fines that would be much better spent on good farm infrastructure, Mr Bodeker said.
"Our objectives are to have every farm compliant with the new water quality rules, and to ensure good water quality in our rivers, streams, and lakes is maintained. Where water is degraded we expect it to gradually improve to meet the schedule 15 and 16 contaminant discharge standards in the Water Plan."
This goal was endorsed by the community and industry stakeholders throughout the Plan Change 6A consultation and mediation processes.
"We cannot meet these agreed goals without farmers adopting good practices,'' Mr Bodeker said.
Examples of this included: installing sufficient effluent storage systems, installing effluent irrigator safety systems (electronic sensor warning systems in the event of irrigator failure - e.g. hose disconnecting from the travelling irrigator on the irrigator systems), and upgrading to low-rate effluent irrigation systems in areas where effluent application is at times risky.
"Those farmers not willing to take these steps are letting the industry and their local communities down," Mr Bodeker said.
ORC would use all the means at its disposal, including prosecutions, to convince them it was time to move to better ways of operating, he said.
--------------------------------------
This is what Federated Farmers had to say about this ORC statement:
Farmers need to take council findings on the chin  

Federated Farmers is saddened by Otago Regional Council inspection results and believes farmers risk compounding a bad payout season unless they seek information and help on what their obligations are under the Council's water quality rules (Plan Change 6A).

"We are way too early in the inspection run to have this sort of bad news," Stephen Korteweg, Federated Farmers Otago provincial president and himself a South Otago dairy farmer said.

"We'll back guys who are unfairly treated but there's just no way we can defend the indefensible.   We know what society expects of us and we must lift our game.

"Our guys may have to take this on the chin.  This is bad news and there's no way to sugar coat it.  We must do better right across the board.

"That said this is not about most farmers. We just hope all farmers aren't tarred with the same brush here because most are responsible operators. 

"Our message is probably aimed at those who didn't attend one of the three Enviroready field days on Plan Change 6A obligations, we ran last week, alongside DairyNZ and Beef + Lamb NZ.

"We had a very good turnout to these field days despite it being the busiest time of the year. There is evidently still some confusion around what farmers need to be doing in order to remain compliant with the plan.

"Farmers have to do better.  We have to do better.  It's really is as simple as that. 

"To that end, Federated Farmers Otago is supporting Clutha Development Trust's application to the Sustainable Farming Fund.  This is for a community led water quality project in South Otago. 

"We're also working closely alongside other industry representatives and the Council to ensure that the information needed by farmers gets out to them. 

"If farmers don't understand what their obligations are, or what they need to be doing or avoiding, the easiest thing for them to do is to call the Council, Federated Farmers, their industry good body or milk processor.   

"DairyNZ has experts in effluent management and if you are a member, you can also speak to Federated Farmers Otago's policy staff or electeds as well. 

"We all want to pull together because otherwise this will generate the very headlines that we don't want," Mr Korteweg concluded.