John Brosnan is looking forward to some fun this holiday season, but notes that trouble or damage by employees at an end-of-year function leads straight to an employers wallet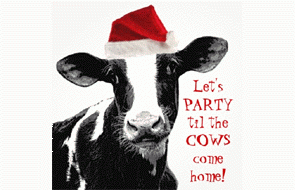 As Christmas approaches and the year winds to a close, most people like to socialise, relax and take stock of the year, and often the boss will put on a few beers for the team to say thank you.
Also it is a time of year where employees have quite a few social functions of their own in addition to any work related functions and so are often keen to finish milking and head off with friends.
Usually these are highlights for the year and if all goes well and people have a good time and behave then that is great, however the partying can cause bad behavior that needs rectifying quickly.
One issue is the employees who are 'partying' and potentially coming to work under the influence of either alcohol or illicit substances or both.
This creates safety issues, work output issues, behaviour issues - anything from attendance to other disruptions.
And the cost if things are not done right and results in things having to be redone, repaired or production lost.
To protect yourself make sure your business policies, usually found in your farm handbook and your employment agreement have clauses  making it a serious misconduct for an employee to attend work in a state where they are suspected of being unfit for work. You find clauses around this in Federated Farmers agreements as an example.
If you have staff turn up and you strongly suspect they are 'under the weather' from something, you may be tempted to just send them home.
To do this you will have had to make the call that they are under an influence. You can make this leave without pay, but you would also want some sort of formal follow up, and from this you must keep good written records documenting why the employee was sent home and everything that then follows.
The more formal approach and one you could rely on later if needed, would be to request that they accompany you to the doctors (at your cost) for a blood test, or you could have a qualified person come on farm to conduct random drug and alcohol testing - as an employer you are entitled to do this.
Note here that safety concerns and protecting employees and staff from accidents enables employers to act on these concerns, but we do strongly recommend that your work place should have a robust drugs and alcohol policy as well.
If the employee refuses to accompany you for these tests in work time and at your cost then as an employer you are able to rely on the assumption that they have something to hide and may proceed with formal action in terms of your policies and employment agreements.
A second issue is the one of employees having too much alcohol or another substance at a staff Christmas party and doing anything from damaging any of the hosts facilities (if at a business such as a restaurant, workplace or theatre), assaulting anyone or doing anything that leads to a complaint of sexual misconduct, bullying or any other behavioural breach.
In this situation the employer is liable for the costs of damage as vicarious liability links damage on a work function to the employer's wallet.
The employer is also just as liable in the requirement on them to manage any employee who behaves inappropriately at the Christmas party as they are in usual working hours, in law there is no difference so the employer can not simply ignore any such behaviour and should definitely not encourage it.
So to reduce the risk, have clear and robust company policies around these issues.  Your handbook can be updated at anytime with business policies and this does not require redoing employment agreements.  Most of these areas are supported in law as well.
Remind staff via a simple team talk the "Hey, the Christmas season is upon us and while I expect you guys to enjoy yourselves here is also what I expect at work and at anything where you are representing my farm or at our work party ... "
Set out clearly your policies and expectations so no one has to wish they had been 'reminded' beforehand when they are in trouble and caused you either cost, embarrassment and/or time sorting out some issues. It would also be a good idea to make a note for yourself that you clearly reminded the team of these obligations at this date – this removes any doubt later on should issues arise and facts be questioned.
As usual most people will not be a problem and after a busy year the chance to relax together will be welcome and fun.
But if you also plan for the one off unwanted incident then hopefully that won't happen either.
----------------------------------------------------------
John Brosnan is a business development adviser at CooperAitken Ltd, accountants in Morrinsville and Matamata. You can contact him here