The Weekly Dairy Report: More drops for WMP at auction seals fate of Fonterra forecast reduction next week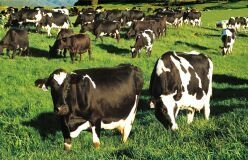 A week of unsettled stormy weather brought all the seasons together, with some rain for those in the right spot but not enough to saturate the dry soils.
Drought and irrigation restrictions are close in many areas of North Otago, South Canterbury and Mid Canterbury while in southern regions cold wet conditions prevail and the establishment of winter feed and growth of baleage is an issue.
In the North Island, eastern areas have rapidly dried out as relentless winds have sapped any moisture that has arrived and the Gisborne region has sweltered under record temperatures for this time of year.
The North Island western regions however have had plenty of rain and grass growth rates have breached the 40kg/dm for the first time this spring.
Milk flows for NZ, are 4% greater than last year, in Australia they are nearly 10% ahead, but in Europe reports reveal milk prices are in freefall, and some predict they will fall further when milk quotas come off.
More casualties of the downturn as Westland adjusts it's forecast back 40c to $5/kg ms, and warns farmers to allow for price volatility in their budgets, driven by increasing global milk supplies.
Last nights auction results revealed the bottom has not been reached yet for Whole Milk Powders as they dropped to a new low of $2229US, levels not seen since July 2009.
Synlait announced their capital development had gone over budget by $50million and that this years forecast would start with a $4.
Fonterra is opening the second offer in December off it's Guaranteed Milk Price scheme that involves 2% of it's total milk supply, and many farmers will be regretting now not taking up more of the first offer.
Matarau Valley Milk has resurrected it's processing plant plans with interest from an outside investor, while Fonterra, progress a new equity fund aimed at making more capital available for farm expansion.