Official report into botulism scare slams Fonterra's food safety culture; says attempt to save NZ$150,000 caused crisis; says MPI crisis response incoherent, confused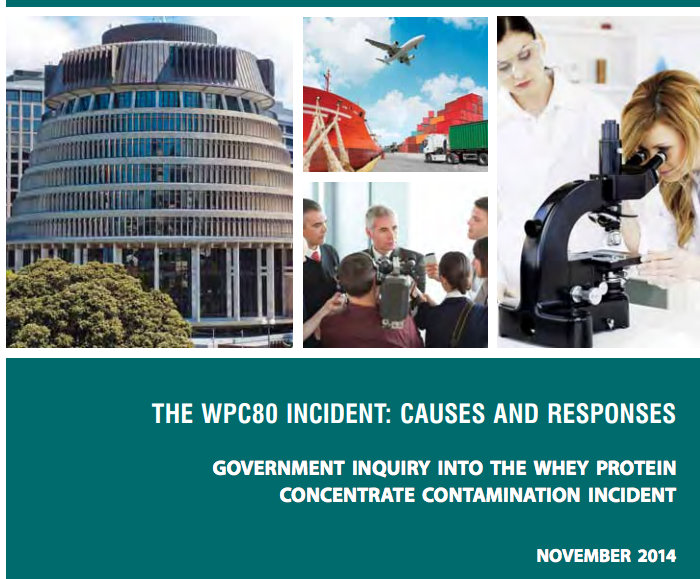 By Lynn Grieveson
An official report into Fonterra's botulism scare has slammed the Cooperative's poor food safety culture, saying an attempt to save NZ$150,000 contributed to the episode. The report also criticised the Minstry of Primary Industry's (MPI) response as incoherent and confused.
The Government responded by saying reforms of MPI had already been started, while Labour called for Food Safety regulation to be pulled out of the MPI 'Super Ministry'.
The report of an independent inquiry headed by Queen's counsel Miriam Dean said that, between the breaking of a torch at Fonterra's Hautapu plant in February 2012 and the final notification by Fonterra in August 2013 of Clostridium Botulinum in whey powder processed at the plant, "numerous people made decisions that, one by one, added their small contribution to the building momentum of events."
"Sometimes, those events seemed to take on a life of their own, but they were entirely avoidable – if a strong food safety culture had thrived in the workplace," the report said. 
By its decision to rework, rather than downgrade, the potentially contaminated whey powder concentrate after the lens fragments from the broken torch fell into it, Fonterra hoped to recover about NZ$150,000.
"The cost to the company and the reputational damage for New Zealand magnified this figure many times over," said the report, which was released on Tuesday.
'Sad indictment'
Labour's Primary Industries spokesman Damien O'Connor described the report as "a sad indictment", adding that "the culture, right from the farm through to the marketplace has to improve."
Food Safety Minister Jo Goodhew and Primary Industries Minister Nathan Guy released a statement saying the report showed MPI "took the correct decisions in putting consumer interests and public health first, both in New Zealand and overseas, by adopting a precautionary approach" (even though the so-called " botulism scare" turned out to be a false alarm).
However, the Dean report found that the ministry "had no single, coherent (or reviewed or rehearsed) crisis plan for a food incident that it could implement straight away after receiving notification of Clostridium. botulinum" and "should have had better-documented decision-making processes, used more rigorous science-based risk assessment, and co-ordinated better with the industry to avoid unnecessary confusion among consumers and others."
As well as describing the length of time it took to trace the affected product as a "seriously deficient effort", the report slammed Fonterra for a workplace culture that "exhibited an entrenched 'silo' mentality that robbed the company of some of the cohesion so vital in an organisation of its size."
"Communication, both within and between parts of the organisation, was often unclear – symbolised most starkly by a manager's unwitting authorisation of Clostridium botulinum testing. And there was also a lack of adequate escalation procedures to deal with possible food safety problems," the report said.
"A food safety programme and a food safety culture are entirely different. One is concerned with documentation and processes, the other with employee behaviour and a top -to-bottom commitment to putting food safety first."
'Fonterra was not ready'
"The ill-prepared inevitably pay a heavy price in a crisis. Fonterra was not ready for a crisis of this magnitude. It lacked an updated, well rehearsed crisis plan to implement, as well as a crisis management team that could spring into action," the report said.
"The ministry also lacked a single, coherent food incident plan to implement straight away."
Goodhew said MPI was already working on a better response model and plans for regular exercises and simulations.
"MPI has already better aligned its structure, provided greater clarity on food safety responsibilities and accountabilities to key players, and put in place new governance processes," she said.
"A Food Safety Law Reform Bill is being developed for introduction in 2015, and a Food Safety and Assurance Advisory Council is meeting quarterly. Working groups with industry representation are underway focusing on traceability and capability in the dairy sector. A Food Safety Science Centre is being established, and MPI has increased its presence in key overseas markets, including China," Goodhew said.
Guy said MPI would receive NZ$7.9 million over four years "to strengthen its core food safety regulatory and operational capability."
'Break up MPI'
However, Labour called for a completely independent food safety authority, with O'Connor saying that was "the only way that we can ensure the very highest levels of food safety and an independence that reassures our customers in the international marketplace."
"The super-ministry that was formed by the National government is nothing more than a super muck-up, and their responsibilities for food safety have clearly been compromised," O'Connor said.
"John Key's been out there selling our safe food around the world, Nathan Guy hasn't had a ministry that's either capable or resourced well enough to ensure that safe food gets to the customers," he said.
"MPI should never have been allowed to take over the old food safety authority. The roles are completely different. MPI works with the industry whereas an independent food safety agency should critique the industry's standards. The Government must take food safety out of MPI and make it an independent agency that is unafraid to challenge the big fish in primary industries."