The Weekly Dairy Report: Some farmers hit with feed shortages and low prices but as yet production holds on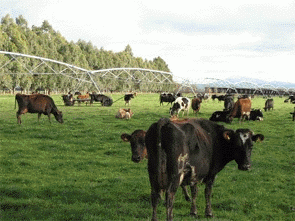 The lack of rain in the last two weeks has accentuated the dry in the east coast of the South Island and soil moisture levels have disappeared rapidly from many other areas of NZ.
Reports suggest North Island areas have made good supplements in the spring, and after a slow start maize crops have made up for lost time, but although good rains have occurred just in time, soil moisture levels are low and high temperatures could change the feed situation fast.
A drought call is close in South Canterbury predict NIWA, and with the Opuha dam only 30% full, severe irrigation restrictions are imminent, and even areas of Southland are looking for rain.
Snow fed rivers in the South Island are still at harvesting levels but rivers that source from the foothills are drying up fast, and water storage schemes are a common discussion topic.
Palm kernel extract sales are again on the move, but with the predicted payout still low, feeding for extra production maybe uneconomic and NZ Dairy advisers suggest doing the sums via their calculator.
The first dairy auction of the new year did lift by 3.6% as evidence that prices have bottomed, but with lighter volumes offered and small gains for whole milk powder the payout is nowhere near secure yet.
Fonterra reports milk flows are 4% ahead of last year but volumes will ease soon with the dry and profit pressures, and this may force later price contracts to firm and start the predicted upturn.
At an Irish dairy farmers conference a NZ nutritionist stated that the average NZ farmer was producing 40% more milk and not making any more money, and European speakers predict a brutal year in Europe for those with high cost systems.
The A2 milk corporation looks to expand in Australia as it's growth strategy, and plans to reduce it's NZ directors at a SGM are a sign of this change.