Silver Fern Farms director election: Incumbent Hewett pushes a program of debt reduction, and the plate-to-pasture growth strategy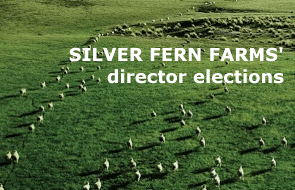 By Rob Hewett*

Shareholders elect two Silver Fern Farms Directors this year.
Voters need to be aware of the issues and make an informed decision about who will govern your Company.
Silver Fern Farms has a dual strategy – reduce risk by reducing debt, and increase revenue by growing the volume and value of consumer-focussed, value added sales – Plate-to-Pasture.
Plate-to-Pasture aims to increase returns to shareholders and suppliers delivering high quality livestock that meet our consumers' requirements, and reduce the impact of commodity cycles on farmer returns.
Beef EQ is a demonstrable example, benefiting all qualifying participants in the value chain today. We want to do more. This requires investment capital and time to generate returns for the investors.
We need to continue to innovate, to minimise the commodity-focused selling approach the industry has historically used.Silver Fern Farms has two key strengths - a pasture based, sustainable and environmentally friendly production system, and a world class brand encapsulating the best of New Zealand.
Leveraging these into global markets requires in-depth consumer understanding, and the delivery of a high quality branded product range consistently meeting these needs.
Opportunity to capture sustainably enhanced financial returns from consumers follows.
As we invest in business growth, we will continue to reduce debt. Two of our last three years have been losses, caused by inventory holdings being revalued downwards as global markets softened.
This year saw net profit improve $38.3 mln, and return to modest profitability.
More importantly, we significantly reduced debt by $100 mln as we successfully sold down inventory. 
This year, Silver Fern Farms will continue to reduce debt significantly, and forecasts to deliver a radically improved net profit.
Both will improve our equity ratio.
2014 demonstrated that a downward commodity cycle is a hostile place. Even Fonterra is not immune.
Eighteen months ago, our shareholders gave a very clear message to the Board – focus on debt reduction.  This places a rev limiter on the speed of investment in growth and is why we have embarked on an equity raise process.
It is the Boards strong preference that we retain Co-operative status and we will be consulting with our shareholders at the appropriate time.
I expect shareholders and suppliers will be asked if they wish to invest in their company at that stage.
We will create a compelling reason for you to do that, including detail of what your investment will be used for and an expected rate of return.
Increased equity provides options. When combined with debt-reduction, it turbo-charges the business.
Industry restructure remains to be dealt with.  There is sheep meat overcapacity nationally. The issueis bigger than merging the Co-operatives, but we remain open to discussing this should Alliance wish to engage.  We commit to discussing sensible rationalisation options with any industry participant.
Silver Fern Farms turns over in excess of NZ$2.3 bln - large in the New Zealand context.  Good governance of a business this size is critical.  The Board has engaged independent HR resource to assess each candidate, providing the information in the voting pack.  Please read it. Ensure the candidates you vote for can deliver the goods. 
The world is changing fast. Sustainable, pasture-based food production is in a sunny spot, and New Zealand is well placed to take advantage.
However, we must be ever-mindful of consumer demands.  Annual per capita US sheep meat consumption is only 400grams. 
We occupy a fragile space – lamb could disappear from US menus and most consumers wouldn't notice. Ignoring the consumer in our on-farm and processing facilities decisions is done at our peril.
As farmers, we need to link with processing companies that have the right strategy – that understand consumer demands and design products that maximise opportunity from them. We call it Plate-to-Pasture.
------------------------------------------
Rob Hewett is currently the chairman of  Silver Fern Farms (since December 2013, elected director in March 2008). He is also a director and shareholder of Crossdocks Australia, a director and shareholder of Business Increase Group. He is shareholder and managing director of Hewett Farms, a 960ha sheep and beef breeding and finishing farm in South Otago.