Silver Fern Farms director election: Challenger Hancox offers shareholders the more aggressive MIE 'consolidate-for-change' option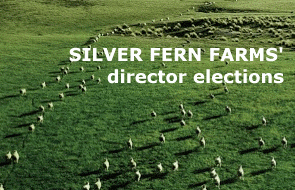 By Fiona Hancox*

I'm pleased that we're seeing robust discussion about investment options for the red meat sector, but at the heart of this is asking: what does a good co-op model look like?
I understand why farmers question having further faith in their co-ops but in truth we haven't really given the co-operative model its best chance of success because of our divided industry.
Co-operatives play a key role in New Zealand's agricultural sector and while I'm not opposed to foreign investment, as it brings ability to reinvest in technology and development, there is a tipping point at which foreign capital becomes foreign control – taking decision making away from farmers.
Attendees at last year's Rabobank Global Farmers Master Class in Australia learned, sustainable return on investment for primary producers the world over depends upon controlling their supply chain and being able to shape processing and marketing downstream.
This is why it is critical that the meat industry continues to be led by a co-operative sector, owned and controlled by farmers. It brings benefits for private players also.
But the status quo co-operative model in the red meat sector isn't working.
We don't have the scale or scope required to compete effectively as the world's number one lamb exporter, or rationalise the processing sector to reduce cost and improve efficiency.
A new, consolidated co-operative with size and scale will make a difference.
We must protect and preserve our co-operative model through strong leadership and excellent governance or risk losing control of our supply chain assets to offshore investors that will be to our long-term detriment.
The next 12 months will be a crucial time for Silver Fern Farms as I believe the focus must be to improve the co-op's debt/equity ratio and create sustainable profits. Right now inefficiencies in our home country are costing farmers each day. We must address what is happening between the farm gate and our customers. On top of that we are also dealing with issues from our global marketplace that we can't control including exchange rates, interest rates and vulnerability with customers.
As stated by Reece Hart, former chairman of PPCS (now Silver Fern Farms), in last week's NZ Farmers Weekly, when the UK Milk Marketing Boards lost the power to negotiate dairy prices for farmers, it had a dramatic affect on the industry. Large numbers of dairy farmers have been forced out of the industry while the rest had to endure very difficult times.
How can Silver Fern Farms expect sustained loyalty from suppliers when the co-operative is unable to improve prices?
Clearly our co-op and our industry is not working when prices are now around $10 a lamb above the cost of production. Margins are just too narrow and are not sustainable.
Analysis done for the Heartland Sheep magazine in October by Geraldine farm consultant Peter Clark estimated the average cost of producing a lamb in NZ to be $85.
Even at Beef + Lamb NZ official 2014/15 estimates of $103 per lamb the top 20% of famers were predicted to be returning a slim 2.5% on investment. Shave $15 per head off that figure, which is the reality at present, and even the best farmers will be struggling to achieve anywhere near sustainable levels of profitability.
What's critical is to understand that our processing and marketing co-op is an extension of our farming operations. Farmers need to take the tough decisions to make sure these assets are contributing profit and wealth creation to their operation. Central to this is having a long-term strategy to build wealth and asset value.
I understand farmers' frustrations. Now is a crucial time for farmers to remain engaged in co-operative issues and work towards reforming their co-operative.
------------------------------------
Fiona and her husband Nelson own and manage three sheep and beef breeding and finishing farms in West Otago running 27,000 su. She was an executive member of The Meat Industry Excellence committee and a farmer representative on Beef + Lamb NZ's farmer council.