We need to dam the alpine rivers to supply reliable water for agriculture and industry says Irrigation NZ. Farmer collectives look to expand successful schemes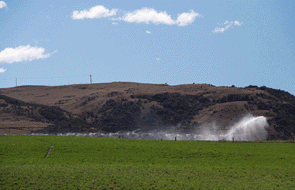 By Nicky Hislop*

If you're lucky enough to still be on holiday, no one will blame you for basking in the hot, dry weather being experienced in many parts of New Zealand.
For the South Island's east coast it's been the first decent Kiwi summer for decades with temperatures regularly in the 30s and little or no rainfall.
If you're a gardener, you'll be feeling stressed as water restrictions bite home. If your pride and joy is your car, not being able to hose it at home will irritate, and if you have kids turning off the sprinklers and limiting showers may be driving you mad.
But spare a thought for farmers whose very livelihood, across every type of farming, relies on adding water to soil to grow crops and feed and water animals.
If regular water doesn't come from the sky in the form of rainfall, irrigation plugs the gap by providing access to authorised river, dam and groundwater supplies.
But what happens when even those supplies dry up?
In a parched summer such as this, which followed a dry winter, one of the only ways to guarantee water is by tapping into water storage systems connected to alpine environments. Harvesting and distributing the spring snow melt to grow crops is commonplace globally and helps to feed hundreds of millions of people whilst sustaining communities.
IrrigationNZ, the national organisation representing irrigating farmers and irrigation service companies, has been advocating for alpine-fed water storage systems for well over a decade. However this summer, as we hover on the cusp of another drought, we're asking national and regional governments to partner with irrigators to plan and then co-invest in alpine water storage.
New Zealand has abundant water resources, which could easily meet current and projected demand, but only if we develop large scale alpine water storage.
Harnessing the potential of alpine systems will generate considerable economic and social benefits for all New Zealanders and build resilience within both provincial regions and urban areas where crops are processed and farm machinery and products manufactured.
A reliable drought-proof water supply means we can diversify agriculture into higher value crops generating more return per drop of water.
High value horticulture requires significant investment during production so guaranteed water supply is essential.
Importantly, alpine storage also creates wins for our under pressure hill-fed and lowland streams. Moving irrigators off these water sources; providing them with alpine water instead will allow natural flow conditions to resume during summer. In some instances stored water may also be used to top up summer flows or replenish groundwater that feeds lowland streams.
Alpine water can also future proof domestic and industrial water supply.
Reliable water for Oamaru is supplied from the Lower Waitaki Irrigation Company and many other towns also rely on alpine-fed supply. Alpine water storage is therefore an investment in New Zealand's future environmental sustainability.
The flipside is the status quo. Do nothing and we continue to suffer dry spells and droughts which wreck havoc on the economy and the viability of farming. Our hill-fed streams rivers and lowland streams will also continue to be the subject of yet more unproductive litigation over access to water – commercial use versus environment protection.
So what does alpine-fed water storage look like?
You may have seen shallow ponds and lakes on farmland that many farmers have invested in. These ponds hold water from nearby river and stream systems which have been consented for irrigation. Larger dams like the Opuha in South Canterbury are fed by foothills streams and both storage types are predominantly replenished by rainfall. 
While these forms of water storage are essential, they have limited reach and more critically offer less reliable supply than alpine-fed storage.
Alpine-fed water storage refers to dams and water storage lakes which are replenished by rainfall and snowmelt from alpine fed rivers such as the Rangitata or Rakaia in Canterbury. Because alpine rainfall is more consistent and plentiful than rain that falls on New Zealand's plains and foothills regions, it's more suitable to provide reliable water supply. 
New Zealand currently has relatively few examples of alpine-fed water storage systems and most were built for hydro-generation – the Waitaki and Clutha Rivers for example. But we have plenty of river and lake systems which could provide the basis for new water storage.
Several years ago, the Canterbury Water Management Strategy (CWMS) looked at potential water storage sites coming up with 20 options for the region based on 12 storage reservoirs. Irrigation and storage were key drivers for developing the CWMS, based on the need to capture both economic and environmental benefits from water use, said David Caygill, Environment Canterbury's commissioner with particular responsibility for water.
"Through the CWMS we are looking at increased reliability of water supply through storage, for example the use of Lake Coleridge, and in tandem making sure that we stay within water quality limits. 
"The strategy also sees improved water use efficiency – which is simply making better use of what we have – as a very important part of water management in Canterbury, and one that the irrigation sector is making great progress on," says Mr Caygill.
The CWMS Stage 3 final report concluded large scale water storage, with the community's backing following consultation, was necessary for Canterbury's future.
"Current approaches to river management do not adequately protect flow variability and the water storage options proposed would lead to substantially reduced flow variability in some rivers at, or near, minimum low-flow for much of January through March."
South Canterbury's current dire situation was predicted with chilling accuracy.
"The South Canterbury evaluation confirmed how 'water short' the area is unless it can access water from alpine rivers (Waitaki and Rangitata Rivers). The current Opuha scheme is unlikely to meet demand from its existing irrigators in all years. In very dry years, like 1988, the lake may not refill in autumn/winter leading to irrigation restrictions of three months or more."
Tony McCormick, CEO of Opuha Water Ltd, is at the forefront of the fight to ensure irrigation water can be eked out this season. Farmers irrigating from Opuha in South Canterbury are now on 50% water restrictions and have been warned to prepare for tighter limits if the lake continues to drop. He says alpine water feed into the Opuha system will be the only way in the future to guarantee a high reliability of supply year in and year out.
"The situation with our water storage continues to deteriorate and the outlook is not good – a seemingly strengthening El Nino weather pattern and the possibility of an empty lake before the end of February. These conditions truly are unprecedented in the history of the dam but, at the same time, are not conditions that have not been experienced here before. It emphasises how we have had something of a fortunate run over the last 15 years and have not had the climatic sequence such as occurred in the 1980's and that we are now seeing to a similar degree this season. It also emphasises that the South Canterbury region is a naturally water short region and that we are always at risk of insufficient water supply, even with storage, while we are reliant only on the rain that falls within our catchment. We must look to accessing alpine water if we are to realise the full potential of reliable irrigation in our region."
For IrrigationNZ, this summer highlights again the need to move on alpine-fed water storage infrastructure. Despite the focus upon irrigation development over the past five years New Zealand has made very limited progress on storage. We have invested heavily in modernising and developing our irrigation distribution systems but have failed to invest in alpine water storage to our detriment. It's almost as if we've lost sight of the prize that reliable alpine-fed irrigation water storage could bring to both the environment and economy. Certainty of water supply allows investment in SMART irrigation technologies that greatly improve nutrient management and production. There are also direct benefits from storage including the augmentation of summer river flows or being able to release flushing flows that cleanse rivers of summer algal growth.
The investment hurdle, a small group of progressive irrigators being expected to fix today's environmental issues which are largely the result of yesterday's decisions, whilst providing for future generations, just doesn't stack up. The only way we're going to realise New Zealand's water potential is through the community co-investing alongside irrigating farmers. Irrigators need to pay their way but the community also needs to be making an investment in its future resilience.
Case Study – Waitaki
You only need to look at the bottom end of Canterbury to see the benefits of alpine-fed water storage.
Elizabeth Soal, Policy Manager of the Waitaki Irrigators Collective, says the Waitaki's alpine storage means irrigating farmers in the lower half of the catchment are well placed to ride out this summer's extended dry.
"This storage in the upper catchment means that irrigators in the lower Waitaki enjoy some of the most reliable water supply in the country, as low flows in the Waitaki generally occur during winter, outside of the irrigation season.  This also means that there is not the added environmental pressure on the lower river of full abstraction during times of low inflows, so the Lower Waitaki is able to sustainably supply reliable water for irrigation of well over 100,000 hectares across North Otago and South Canterbury."
Storage in the Waitaki system is provided by the three alpine lakes (Tekapo, Pūkaki, and Ōhau) and the three man-made hydro lakes (Benmore, Aviemore, and Waitaki).  About fifty per cent of the spring and summer inflows into the Waitaki system come from alpine snowmelt. Tributary inflows into the lower river are much less reliable, and typically have low flows during summer.  The Maerewhenua River, which flows from the Kakanui Ranges into the Lower Waitaki on its south bank at Duntroon, is an example of these waterways.
Water has been abstracted from the Maerewhenua River for over a hundred years, beginning with gold mining rights which were then later converted to irrigation permits.  When the Waitaki Catchment Water Allocation Regional Plan was developed in 2004, the environmental flow regime and allocation limits put in place meant that the river was over-allocated in terms of abstraction (although, contradictorily, other policies within the Plan guaranteed that those with existing permits at the time the Plan was written would maintain their reliability of supply).  The susceptibility of the Maerewhenua River to low flows in summer meant those irrigators abstracting from the river faced significantly reduced reliability of supply which would have major economic and social impacts on the local community.
However, the Maerewhenua District Water Resource Company (MDWRC) had, in addition to its long-held consent, gained a water permit to take and use water from the highly reliable Lower Waitaki main stem (water which was able to be abstracted within the allocation block available under the Plan).  The Maerewhenua Water Users Group came together to develop a process whereby some of those abstracting from the Maerewhenua River would relinquish their consents and instead receive supply from the MDWRC.  This has come at significant cost to the farmers involved, but it has resulted in a win-win outcome, with farmers (those who stayed on the Maerewhenua and those who relinquished their consents) improving their reliability of water supply and with water being surrendered leading to improved environmental outcomes for the Maerewhenua River. 
"This great outcome would not have been possible without reliable alpine-fed water being available from the Lower Waitaki River.  The Waitaki Irrigators Collective is now undertaking work to determine whether this successful example can be replicated for the other tributary waterways of the Lower Waitaki," says Ms Soal.
-----------------------------------------
Nicky Hyslop is the chairperson of Irrigation NZ