The Sheep Deer and Cattle Report: Good half year for PGGW, but will the full year be affected by the dry?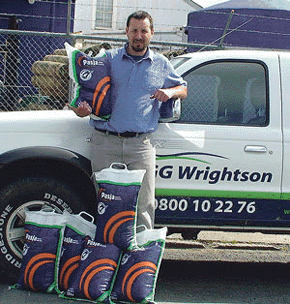 LAMB
Unfortunately lamb schedules continue to fall, with demand for frozen product weak  in the UK, and the lack of Chinese interest, keeping prices dropping.
The port dispute in the US and subsequent shipping delays has caused problems for chilled lamb product as well, with one company reporting they had to freeze down one consignment and take the significant cost on the chin.
Lamb returns out of the UK are behind a year ago, and with their rising production starting in June, exporters report little hope of price lifts.
The lamb processing tallies are now 1 million ahead of last year and growing, and analysts are suggesting a shortfall could arise in late autumn/ early winter, from this early kill.
The autumn benchmark for mutton has been set by Taylor Preston with a $3.00-$3.25/kg cwt contract, for animals in the March /May period.
PGGWrightson announced their half year results that have been described as, "outstanding, and the best for seven years", as the agricultural service provider strives to achieve it's past leadership in the rural sector.
WOOL
The South Island wool auction produced steady prices, for crossbred fleece and lambs wools, but clearances fell to 84% on an unchanged currency.
Crossbred wools have been selling 20-30c/kg clean above last years average and lambs wools are $1/kg ahead, but mid micron fibre returns are again flat.
BEEF
The port strike is now settled with an intervention by the Government officials, but the backlog of cargo and ships is predicted to take 8 weeks to clear.
Big supplies of manufacturing beef from NZ and Australia and a cow kill that is 50% ahead of last year, has weakened the market, and schedule prices for bull and cow fell again this week, although no movement for prime beef.
Exporters however are still positive about future prospects for beef, with the US domestic prices still high, rain in Australia encouraging restocking, and global beef producing herd numbers, lowest for years.
Feed will be the biggest challenge for the beef sector, with the breeding cow areas of the SI high country being so dry, and dry land weaner buyers very short of feed.
A big early sale of beef weaners out of the drought area of South Canterbury in early March, illustrates the severity of the feed crisis in this region, as farmers are desperate to destock and save feed for capital breeding stock before winter starts.
Progress is being made in the control of TB in Canterbury and the easing in some areas on the frequency of testing will be welcome by farmers and shows years of hard work is paying dividends.
DEER
Another small reduction in venison schedules this week reflecting the weak Euro currency, but exporters are reporting frozen sales ahead of last year and growth in new markets outside Germany.