The Sheep Deer and Cattle Report: Autumn rains helpful as processors report lamb prices have bottomed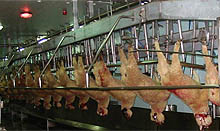 LAMB
Good rains in the very dry areas this week, but volumes have been mixed and follow up moisture will be needed, if this is to become a drought breaker.
Processors report, given the current market signals, lamb prices are now at the bottom, as the processing figures in early February were nearly 13% ahead of last year, and in late February weights fell sharply.
With the chilled Easter production season over, most product will now be frozen down into a soft market, especially in China and the US.
Local trade schedules also seem to have bottomed at 515-520c/kg CWT, with the south leading the price levels, as heavy weight lambs have been hard to find with the feed shortages.
The mutton market is also weak as schedules drifted lower this week, even with a much lower kill volume than last year.
Autumn ewe contracts are now being offered at 325-350c/kg CWT illustrating this soft demand for mutton at the moment.
Store lamb values have stabilized at saleyards with light offerings at most venues, as managers chose to kill at lighter weights, rather than meet the live market.
Rams will be going out in the early lambing areas, to ewes below optimum weights, and the economic cost of this drought will impinge on next year as well.
The long awaited report on the state and future of the red meat sector instigated by the MIE group is due to be released next week, and given the present weak prices of sheep meats and financial pressures on sheep and beef farmers, should increase the pressure on the sector to unite for a long term sustainable solution.
WOOL
The strong currency eased wool prices in last weeks combined island sale, even with Chinese buyers returning after the New Year break, and 13% of the offering was held back for future sales.
BEEF
The resolved US port strike is still dropping beef schedules  exporters report, as the backlog will take 8-10 weeks to clear, as the early kill and strong prices increased volumes into that market.
Early beef weaner prices in the north have started well ahead of last year (45-50c/kg lwt), but the drought offering of calves in South Canterbury may not find buyers so willing in the difficult feed situation in this province.
The beef processing figures show a cow kill that is over 50% ahead of last year, and total beef processing nearly 21% ahead, which is sure to leave a shortage of animals later in the season and one company lifted schedules to indicate beef schedules may be near the bottom of the cycle.
DEER
Exporters report venison supply and demand fundamentals are nicely in balance and they are positive for future sales, but the sector is still under profit pressures as the falling breeding numbers show.
Advisers are urging managers to wean early, all fawns and beef calves if feed stress is an issue, as hinds  need time to recover condition before accepting the stag.
Massey and Lincoln University have recorded good growth in student numbers studying land based subjects, as the importance of investing in agricultural education now, will determine success in the future.