NZTE Chairman Andrew Ferrier says meat industry needs to consolidate into Fonterra to compete globally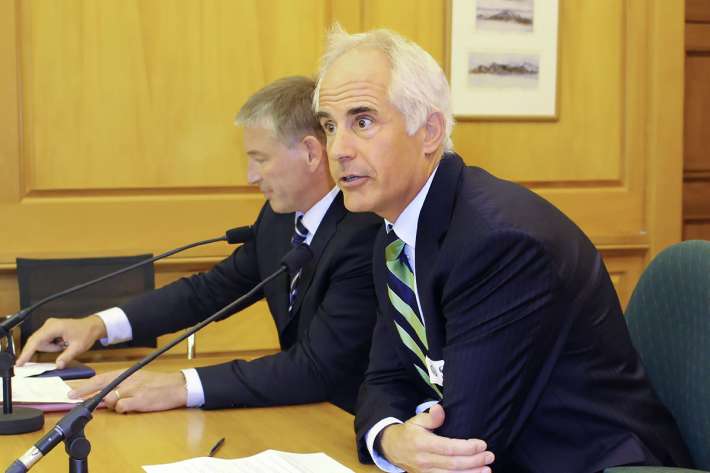 By Lynn Grieveson
New Zealand's meat and other exporters should follow the example of the dairy industry and consolidate in order to compete globally, former Fonterra CEO Andrew Ferrier told parliament's Commerce select Committee on Thursday.
Ferrier, speaking in his capacity as chairman of New Zealand Trade and Enterprise (NZTE), said New Zealand's major players needed to consolidate, or at least form "coalitions", to take their products to the export market.
"We created a truly competitive global business in dairy and I enjoyed sitting in the seat and seeing the amount of market power we had around the world because we consolidated our efforts for exporting dairy products," Ferrier said.
"Now, it would be helpful if we could encourage further consolidation of major players to become more competitive in the export market. It's not something necessarily the government can do, but when we look at the meat sector, for example, there's a great example where they could –and should, in my opinion – be looking for consolidation for success in the future."
Ferrier said an alternative to the Fonterra model was for companies to compete domestically, but work together to succeed in export markets.
NZTE CEO Peter Chrisp added that NZTE, which assists export companies grow and market internationally, had "about 23 different coalitions in various stages of development that are going into market together," including companies selling wine and mussels in China and security technologies companies marketing themselves in Washington.
"Ruthless competition inside New Zealand is probably a good thing because that hones businesses to be good, as long as they are competing by making their products more interesting to their customers and so on," Ferrier said.
"But the important other side of that is how we help companies work together in coalitions so that we can get economies of scale. Not everyone can consolidate the way the dairy industry consolidated but I am personally very passionate about us being able to help companies work together – help competitors in New Zealand work together outside New Zealand to succeed in export markets. And our coalition activity is designed to help companies do that and it's starting to get quite a bit of traction."
Ferrier told the committee that, without consolidation of industries, he saw three bottlenecks to further export growth: not having companies big enough to take advantage of the global marketplace; a domestic market that is too small; and not being able to offer investment opportunities large enough enough to attract global capital.