The Weekly Dairy Report: Auction result confirms a volatile future as some suggest growth goals are unrealistic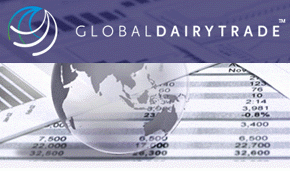 Another dry period last week, but rain predicted over the next several days could be just the weather sequence farmers are looking for.
Green shoots are appearing, but agronomists suggest giving pastures as long as possible to recover before grazing, will yield the best results.
Regular monitoring of winter brassica crop yields will be important in planning feed requirements for cows during the dry off period, and regular communication should be held with graziers to ensure no unexpected surprises arrive.
Fonterra report that MyMilk contracts are on target to attract extra production, but Open Country Dairy reports a waiting list to supply, and analysts suggest the large capital commitments of a conversion, favour the nil shareholding processing options.
A reality check last night at auction, as prices took a big step backwards as global markets reviewed supply volumes and decided that there was plenty of product around the world and cheap prices could be maintained for a while yet.
Even though volumes offered were back 8% on the last  sale, index prices fell by 8.8% and more importantly whole milk powder returns fell to below $3000US , and well back on the trigger amount needed to ensure a $4.70/kg payout.
While this is only one sale of many to come, this sudden fall has had analysts questioning whether a $6+ prediction for the 2015/16 year is still realistic.
The threat to contaminate infant milk powder with 1080 has been successfully contained, with no reports of any product being banned or recalled.
A testing regime, sound security systems and prompt communication with customers, have all helped to handle this difficult situation, but have been a wakeup call for all food producers in the areas of safety and security.
Processors report plants are full of cull cows as the economics of feeding scarce autumn feed to inefficient animals is poor, and the drought for others has given them few options but to destock.
And in the Waikato, industry leaders are encouraging discussion on whether a moratorium is needed on future dairy conversions, as environmental issues, increasing costs, and the present poor returns, could ensure a period of stability may be best for all in the sector.