The Weekly Dairy Report: Auction results indicate this years payout still at risk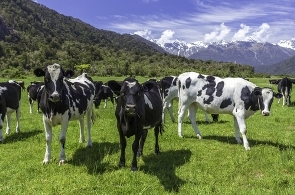 Autumn is providing good growing conditions in the North Island and the deep south, but the top eastern areas of the South Island continue to struggle with lack of moisture.
North Canterbury and Marlborough missed significant rain from the latest front, but instead received lower temperatures with hail and snow, and will be hoping NIWA's April/June forecast of milder conditions will arrive.
Most herds are close to drying off, and will be monitoring cows body condition scores to decide when to finish milking, and rebuild condition over the winter for the new season's calving.
Autumn cows are now supplying bobby calves to the saleyards, to strong interest from beef farmers driven by a rising demand from the US manufacturing beef market.
Milk auction prices fell again for the third consecutive event but less than the recent big drops at -3.6%, and was led down again by skim and whole milk powders whose prices are still languishing in the low to mid $2000/tonne areas.
Trading in milk futures indicated this downward trend, and future auctions will need to be very positive if the $4.70 payout is at all possible, and the new years prediction to be at  sustainable levels.
Fonterra shares are falling, to now sit at $5.20, and with the dividend also predicted to be down, shareholders will be looking hard at their returns from their significant capital holdings.
The dairy giant also went to the market with a $250 million bond issue as they look to fund future corporate activities, and interest in this offer will provide some indication of the present optimism in this sector.
Two dairy analysts have publicised gloomy forecasts for next year  with a "$5/kgms" forecast, citing increasing European and US production and the currency as negative drivers, but also note that low returns could curb production and cow cull kills were increasing in NZ and the US.
Goat milk production has received publicity last week with interest in the North Island, and reports a Chinese company is planning to build a goat milk powder factory in Ashburton.
There have been calls for a change to "Gypsy Day", that creates chaos on the roads, farms, and lawyers offices every year, and suggestions are that the system be planned well ahead to allow more flexibility in the changeover period.