Central Plains Water pushes on to Stage 2 with IAF funding after Stage 1 almost complete. Drive to add 10,000 more hectares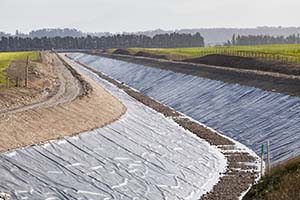 Content supplied by CPW
Central Plains Water is proceeding with planning for an enlarged Stage 2 of the $375m project on the back of fresh funding from the Ministry of Primary Industries' (MPI) Irrigation Accelerator Funding (IAF).
The $3.5 million investment from the IAF will allow CPW to proceed with the first phase of the Stage 2 design. This investment is one of two that the IAF has committed to CPW, which must match the commitment dollar-for-dollar.
Derek Crombie, chief executive of CPW, said that they have relooked at their initial plans and decided they will enlarge Stage 2 to 30,000ha compared with the original 20,000ha.
"In our initial plans we had fixed stages but by pushing the canal further across towards Darfield to finish near the dairy factory we can open up an extra 10,000ha in this stage which will leave about 10,000ha of infill as part of Stage 3. It will also mean that we may be able to build the last part of the headrace more efficiently.
"Much will depend on farmer uptake of shares as to how Stage 2 and Stage 3 pan out. Stage 2 is decidedly different to Stage I in that only 25% of the land is presently irrigated in Stage 2 compared with 75% when we started Stage 1," he said.
The Stage 2 canal will now be 26kms with eight feeder pipelines coming off the canal to irrigate the 30,000ha, compared with 17kms of canal and four feeder pipelines in the Stage I design. The new Stage 2 is expected to cost $250 million, which includes land purchases, design and construction, and will take two years to complete, starting in September next year.
Crombie said that Stage I was right on schedule and commissioning tests were starting on the intake, which will be followed by the testing of the gates and introduction of water into the sediment pond. Filling of the canal will commence in July.
"Construction of the 17km-long canal, earthworks and structures is complete and we have about 3kms left of lining. We expect this work to be finished in July. On the pipelines we have less than 10kms of the 130km network to lay," he said.
Commissioning work has started on the canal intake.