PM says NZ already in early talks with China to improve FTA after Australia signs its Free Trade deal with China; Key says not much extra dairy access in current version of TPP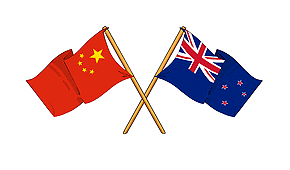 By Bernard Hickey
Prime Minister John Key has signalled New Zealand would like to improve its Free Trade Agreement signed with China in 2008 and that officials were already in early discussions after Australia signed an FTA with China last week that may give its dairy farmers better access than New Zealand's.
The details of Australia's dairy deal with China have not been revealed, but it is widely reported that tariffs will be removed for 95% of Australia's exports to China.
Australia's Trade Minister Andrew Robb was quoted last year as saying Australia's dairy deal with China was better than New Zealand's. Under New Zealand's FTA, China must offer the same terms to New Zealand as in any subsequent deal with another partner. New Zealand has tariff-free access for dairy up until certain 'safeguard' levels, and has exceeded those levels in recent years, which means tariffs have to be paid on the excess imports.
Key was asked at his weekly post-cabinet news conference if New Zealand wanted to renegotiate its deal with China.
"Yes. Over time we do want to and I think there will be a process that will be undertaken to look at that simply because we have effectively exceeded expectations on the safeguards that were there, particularly around dairy," Key said.
"So we have just exported a lot more than what was initially anticipated so we currently pay the tariffs over and above the safeguard limits and I think we would want to try and see if we could eliminate those safeguards quicker if we could," he said, adding some preliminary discussions had already taken place.
Dairy deal under TPP not good
Meanwhile, Key confirmed comments from Trade Minister Tim Groser over the weekend to Business Desk that New Zealand was not happy with the current offering for New Zealand dairy exports to Canada, Japan and the United States. Groser said negotiations had barely started on dairy access because "phony" negotiating positions had been put on the table.
"There is a deal. It's probably not the level that we could currently like, but I think he is right in saying that there is more negotiation to  be undertaken," Key said.
"On what I have seen at the moment, if in theory we froze time and concluded the deal as I see it, it's a net positive for New Zealand," Key said.
"But it wouldn't be doing enough for dairy for us to be comfortable, because we would like to do some more," he said.
"There are a lot of other sectors that would be happy about it."