Farmer attitudes the key to earning top returns according to conference research. Industry in surprisingly good heart, reports Allan Barber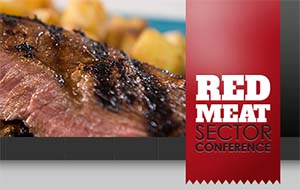 By Allan Barber*
An excellent programme at the Red Meat Sector Conference which took place in Nelson on Monday entertained and informed the large industry gathering, but there were also a couple of sideshows that added a frisson of interest and anticipation.
For the second time the ginger group Meat Industry Excellence timed its annual meeting to coincide with the conference, although this year's was held on the other side of the Cook Strait.
However there were two MIE demonstrators outside the Rutherford Hotel on Monday morning clutching an elephant that they wanted to install in the conference room as a reminder to the delegates, as though they were likely to forget, MIE still has unfinished business.
Alliance Group's chairman and CEO were due to meet MIE representatives in Wellington on Tuesday to discuss the conclusions from the report Pathways to Long-term Sustainability and whether Alliance had changed its view of the potential benefit of a merger with Silver Fern Farms.
My understanding is nothing has changed here for three reasons: firstly there is serious doubt about the accuracy of the processing and procurement savings in the report, secondly history shows mergers inevitably lead to market share loss and thirdly Alliance has six strategy areas it is working on to improve performance for suppliers and return on capital employed in the business.
The other eagerly anticipated event has so far failed to materialise, but SFF's announcement about its capital restructuring options is expected fairly soon. As one senior industry figure suggested to me, it would have been a friendly gesture for the company to have put us all out of our state of nervous anticipation at the welcome cocktail party on Sunday evening. Not surprisingly I assume the shareholders will be the first to hear this news.
Considering the noise about declining sheep numbers and low returns, the industry is in remarkably good heart, although doubtless there are those who will say this is typical behaviour, burying heads in the sand as usual. The beef price this year has put a smile on sheep and beef farmers' faces, although not on those only farming sheep, while predominantly beef companies can also look forward to a good year.
At the conference there was much optimism about the potential demand for high value animal protein of the kind produced and processed by our red meat sector. But also several warnings about the importance and cost of getting further up the value chain.
David Hughes, Professor of Food Marketing at Imperial College London, took the conference delegates on a photographic journey of global food trends, showing how the first world had changed dramatically from meals based around protein to meal solutions which were 'snackable', convenient, tasty, premium quality, natural and with traceable provenance. Also these meal solutions may well not contain beef or lamb.
He argued today's consumer was attracted by adjectives, such as local, free range, organic, grass fed, free from additives, whereas New Zealand was more comfortable with nouns. Today's sophisticated consumer is looking for adjectives that describe the products' benefits, not additives.
Hughes also emphasised the importance of heritage and integrity, saying this country's 'heritage is golden, so don't bugger it up!' Traceability is crucial.
Two sections of the conference served to underline a key fact we already know and which never seems to change – the top performing farmers succeed in posting significantly higher profits than those in the middle and lower categories.
John and Catharine Ford, winners of this year's Ballance Farm Environment Awards, explained how they follow both sustainable and profitable farming practices. Their commitment to sustainability is clear from the Award, but what is remarkable is the level of profitability which, in John's words, resulted in a tax bill that is larger than some farmers' net profit.
As further evidence Marc Elliot from UMR Research described the results of his research into top performing farmers compared with a control group of middle performers. The top five farmers produced a return on assets of 8.6% and the top 30 ROA of 6.5% which compared with those at the bottom of the pile with ROA of less than 1%.
According to his research there are six factors which distinguish the top performers from the rest: commitment to family and the way of life, passion for performance, focus on profitability, view of farming as a dynamic challenge, passion for people and the industry, and confidence in the industry.
This graphically illustrates the importance of taking your future into your own hands and the futility of blaming the industry structure for an inability to make a decent profit. It is above all a matter of attitude and commitment to execution that will guarantee success. It appears that only the top farmers really know how to execute.
---
To subscribe to our weekly Rural email, enter your email address here.
---
Farms For Sale: the most up-to-date and comprehensive listing of working farms in New Zealand, here »
---
Here are some links for updated prices for
- lamb
- beef
- deer
- wool
-----------------------------
Allan Barber is a commentator on agribusiness, especially the meat industry, and lives in the Matakana Wine Country. He is chairman of the Warkworth A&P Show Committee. You can contact him by email at allan@barberstrategic.co.nz or read his blog here ».