Keith Woodford identifies China's two economies and assesses what that means for New Zealand's agri-food sector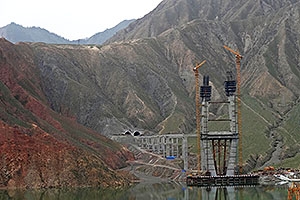 By Keith Woodford*

In recent weeks I have been travelling in Western China. It is just over a year since I was last there, and as with every visit the changes are visible: more fast railways, more four lane highways, and lots more apartment buildings.
This visual perspective contrasts with what we are reading in the media about China's declining economic growth. Which is correct? Well, both perspectives are valid.
There are many 'Chinas' but for simplicity I will divide China into two.  There is the eastern seaboard comprising Beijing, Shanghai, Guangzhou, Tianjin, Zhejiang, Shenzhen and other big seaboard cities. And there is another China west of the seaboard, including Chengdu, Chongqing, Xian, Wuhan, Kunming, and Xining.
The China that is west of the seaboard beats to a different drum.  This China has about 150 cities of more than a million people, and some cities of more than ten million people. It also includes more than 500 million rural folk. In many ways it is at least ten years behind the seaboard China.
First of all, what is happening on the seaboard? Nothing in China is simple, but there is little doubt that on the seaboard there are signs of a confidence crisis. 
The rapid decline of Chinese share markets does not in itself spell gloom. After all, the decline has done little more than wipe out the crazy share market gains of earlier this year.   But the impact will be pervasive in terms of how people think.  People are asking: are the good times over? They are asking themselves as to whether they should be more careful in what they spend.
In recent years, one of the things I have learned about China is that the people are 'hardwired' to focus on survival. Many generations have had the realities of poverty ingrained into them as the normal and expected state. The key survival strategy is to save whenever possible and look after oneself and family. Outside the family, no-one can be relied upon.  Those cultural essentials are now being reinforced.
If economic growth is to continue on the seaboard, then people have to spend. Currently, Chinese save about half their wages and salaries. Those savings have fuelled the infrastructure development of the last 20 years. But on the seaboard, there are now less big infrastructure projects. The last thing that China now needs is for seaboard consumers to go into survival mode.
Out in the west, things are different. The Shanghai share market has no meaning. It is something one reads about in the newspaper, but that is all.
One of the western cities I visit regularly is Xining in Qinghai Province. Xining is the gateway to the Qinghai-Tibetan plateau. The reason I go there is because, together with Lincoln University and Qinghai University colleagues, I am part of  a grassland sustainability project on the Qinghai-Tibetan Plateau at an altitude of 3600 metres.  I will write more about that project at another time.
Xining lies at intermediate altitudes – about 2200 metres – at the interface between the plains and the plateau. Tributaries of the Yellow River tumble down from the plateau through winding gorges and narrow valleys.
In winter, Xining is desperately cold, but in late August the temperatures there are mild. In contrast, down on the plains it is like being in a furnace. Those who can afford it retreat to Xining for some sanity.
The permanent population of Xining is about 2 million, but in summer that increases. I have been coming here for four years and the changes are stark. There are hundreds of new apartment buildings, typically of about 20 floors. There is a new airport of international standard. The rail journey from Lanzhou, 253 km to the east, now takes only one hour and six minutes.
And raising my eyes to the hills, I see precipitous and arid slopes that are slowly turning green from millions of trees planted in recent years. No-one should make the mistake of thinking that China is not taking environmental matters seriously. The problem is that most of the answers are not easy.
Up on the plateau, the people are mainly Tibetan pastoralists, but down in the city the population is predominantly a mix of Han and Hui people. The Han are the predominant ethnic group of China. The Hui are of similar ethnicity but they are followers of the Muslim religion, with historical religious links to Iran.
Commercial life in Xining is dominated by the Han, but there are lots of Muslim restaurants, and one of my earliest acquaintances there is a Muslim official who has also represented China abroad.   In Xining, there is religious freedom and religious tolerance. At the risk of being repetitive: nothing is simple in China.
Over the years I can only recall seeing one Westerner in Xining apart from our own group, but no doubt there are lots of Westerners here. In a city of two million, they are easy to miss.
Unlike forty years ago when I first visited China, we attract no attention from the locals. This contrasts with my first visit to China way back in 1973, when even in Shanghai I would have hundreds of children following me in the streets.
One way or another, New Zealand produce is starting to get to Xining. In a city supermarket I saw two one-litre packs of Fonterra's 'Country Goodness' UHT milk, seriously over-priced at 29 RMB (almost $NZ7 per litre) and close to its use-by date.
In contrast, Murray Goulburn's 'Devondale' UHT milk from Australia was selling well, with comprehensive shelf space, at 15 RMB (about $NZ3.50) per litre. I have been watching the development of the Devondale brand in China for several years. Fonterra needs to take a look.
In the same supermarket there was a small but diverse offering of 'Mainland 'cheese from Fonterra. It was selling in packs of 200g to 400g for between $NZ40 and $NZ60 per kg. It was nicely presented.
Zespri Sungold kiwifruit were on sale alongside Chinese kiwifruit from Hainan, all at the same price of 58 RMB per 500g (about $NZ27per kg). Zespri kiwifruit is the premium brand in China and the temptations of fake branding are considerable. But these looked genuine.
Genuine New Zealand honey ('Meion') was also on sale. Prices ranged from $NZ60 for 375 g of 5+UMF (unique manuka factor) to $NZ100 for 350g of 15+ UMF.
There was lots of French wine on sale, and also some Jacobs Creek red wine from Australia at 160 RMB (about $NZ38) per bottle.  But there was no wine from New Zealand. The shop assistant said that purchasers have a strong preference for French wine.  This is consistent with behaviours of our own hosts, who typically supply French or Italain wine, occasionally Chinese wine.
Local sliced lamb flap (frozen) was available at $NZ13 - $NZ15 per kg, and bone-in frozen leg was $15 per kg.
The big message in all of this is that in New Zealand we have to recognise the diversity of China and act accordingly. On the seaboard the competition is incredibly fierce, and as commercial latecomers we are very much at a disadvantage. But out west, there are lots of opportunities and the competition is much less fierce.
Xining is just one example of many large cities and it is not necessarily the place to start. If I were a commercial person wanting to break through into China, I would be giving serious thought to cities like Xi'an, Kunming and Chengdu. 
Taking Kunming as an example, it has a population of about 6 million, and it is the capital of Yunnan which has a population of about 50 million. It is one of my favourite Chinese cities, with mild year-round temperatures, sunny skies, and a diverse ethnic mix of minority peoples. As for Xi'an, it and surrounding areas have an urban population of about 13 million (plus terracotta warriors) and this is the centre of China's aerospace industry. 
As the Americans said of their own country more than a hundred years ago: go West, young man!
---
Keith Woodford is Honorary Professor of Agri-Food Systems at Lincoln University. He combines this with project and consulting work in agri-food systems. This a regular column here. His archived writings are available at http://keithwoodford.wordpress.com