The Weekly Dairy Report: Rain, auction prices, and Fonterra's predicted payout will lift farmers spirits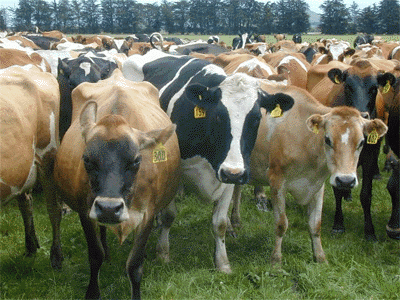 Heavy rain in North Island areas and the top of the south was a welcome replenishment for soil reserves, but warm temperatures again are the missing ingredient for maximizing spring growth rates, especially in the southern regions.
The signs of spring in pastures, daffodils, and blossoms, also returned to last week's dairy auction, as prices rose by a massive 16.5%, led by whole milk powder values of US $2500/tonne.
Oceania Dairy offered it's suppliers a guaranteed minimum payment of $4.50, and announced plans to spend another $400 million in the development of it's Glenavy site producing a wide variety of milk products from this processing plant.
The ever optimistic ASB dairy analysts lifted the predicted payout to $5/kg, and suggested production will drop by 5% over last years figures, on the back of a slow spring and reduced cow numbers.
And today Fonterra confirmed this drop in milk flows with present production running at 8% behind last year, and the season as predicted, 5% back.
They also reported the final payout for the 2014/15 year will be at $4.40 plus 0.25c/kg  dividend, and indicated that 70% of their shareholders were using their interest free loan to help cashflow stress after such a difficult financial year.
On the back of the recent lifts in dairy commodity prices seen at recent auctions, they have been confident to raise the predicted payout for this 2015/16 season to $5 - $5.10/kg ms which includes a 0.40c - 0.50c divident payment.
In another announcement sure to cause issues in farm management decisions, they have asked farmers to restrict pke use to a maximum of 3kg per cow per day, and put them on notice that future use maybe restricted further, as they look to promote the pasture grown milk message.
It is interesting to note southern processor Danone has stated that no pke feeding is allowed for it's South Otago suppliers.
A small amount of optimism returned to the Fonterra Shareholders Fund with values lifting well over $5 for the first time since the autumn, giving farmers some hope for the future.
Westland have followed Fonterra, in restructuring staff numbers to align costs with the reduced milk price, as the whole sector adjusts to the downturn and dairy farm values falling by 37% from the highs of last year.