Trans Pacific Partnership Agreement near completion; Drug patents and auto parts access deals said done; dairy access for NZ still in the air; News conference delayed to 1 pm NZT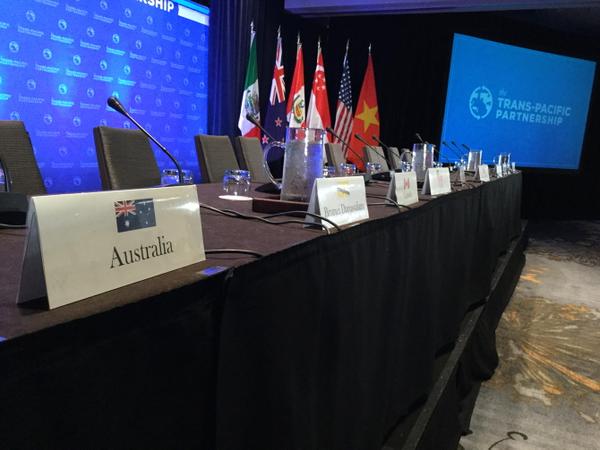 By Bernard Hickey
Ministers negotitating the final details of the Trans Pacific Partnership Agreement (TPPA) are preparing to hold a news conference in Atlanta that could include the announcement of a deal.
The US Trade Representative's office initially scheduled a news conference for 9 am NZ time this morning, but it has since been delayed until 11 am NZ time, and then to 1pm NZ time. It has since been delayed indefinitely as wrangling continues at the last minute.
Dow Jones reported that the dispute on auto parts had been agreed and the major areas of dispute remained around patent protection for biologics and dairy access. It reported one source saying the biologics dispute had essentially been solved and the United States and New Zealand still had differences over dairy access to the US market.
Reuters reported a deal on biologics was reached to keep Australia's existing five year protection period, but with flexibility on some drug monopolies. US firms had wanted 12 years of exclusivity.
A livestream of the news conference is available here.
'Trust me. It's worth it'
Earlier, Prime Minister John Key told Corin Dann in an interview broadcast on Q+A on Sunday that New Zealand would not get everything it wanted on dairy.
"The question is, can we get something that's acceptable," he said.
He downplayed the issue of investor state dispute resolution, saying this clause was already in four of New Zealand's Free Trade Agreements and the thresholds had been too high for any action to be taken.
"There has never been a case taken against New Zealand," he said.
He acknowledged New Zealand was waiting to see how Philip Morris' case against Australia under its FTA with Hong Kong was progressing on the issue of plain paper packaging of cigarettes. He said Philip Morris had used the unusual Hong Kong FTA with Australia rather than the more recent Australia-US deal.
"What will be carved out of TPP will be any restrictions when it comes to public health, so we'll be quite free to have plain packaging if we want, and the government is moving towards that anyway," he said.
Key said the Government's modelling of the economic benefits of the TPPA compared to New Zealand's FTA with China showed it was still "impressive", even without a very good deal on dairy.
"So when I say to New Zealanders 'look, I'm not going to sign you up to something unless I think it's in your best interests'. I don't do that by whistling in the wind," he said.
'Prepare for dead rats'
Meanwhile, Trade Minister Tim Groser told Audrey Young in the Weekend Herald that some ugly compromises were likely for all players.
"It's got the smell of a situation we occasionally see which is that on the hardest core issues, there are some ugly compromises out there," Groser was quoted as saying.
"And when we say ugly, we mean ugly from each perspective - it doesn't mean 'I've got to swallow a dead rat and you're swallowing foie gras.' It means both of us are swallowing dead rats on three or four issues to get this deal across the line."
(We will update this article through the day as more details come to hand.)