The Weekly Dairy Report: Soil moisture a concern as lower production fails to stimulate more price rises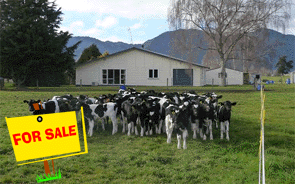 Soil moisture levels are continuing to reduce  in eastern areas of the south, and now the top half of the North Island is getting dry with minimal rains in October.
More warnings from MPI officials of the arrival of El Nino conditions will make those without irrigation in vulnerable eastern areas very nervous.
Waikato farmers are reminded that similar conditions in the past have resulted in 25% less feed and are being urged to keep present residuals low, save surplus grass for silage, and sow summer crops such as chicory, plantain and turnips for expected feed deficits.
Irrigators in the south are flat out watering, but Opuha dam shareholders have been under restrictions as managers try to organise their  water better than last year when they ran out in the autumn.
AI Mating has begun on many farms with tail paint indicating good heat activity, and the bulls with the heifers are being rotated regularly.
Although peak milk supply in the north is close, it is estimated to be weeks away in the south island with a later mating and slow spring dampening the milk flows, and estimates that a decrease in dairy cattle numbers for the first time in the last 24 years will see a reduced supply this year.
This has been confirmed in the September milk supply figures which reveal 7.2% less milk solids than last year and show farmers have streamlined their stocking rates and are only milking the most productive animals.
After a run of rises in the past four events the market corrected at last weeks milk auction by 3.1%, and reminded farmers they will need to be patient waiting for a sustainable upturn.
Westpac says they will support dairy clients to the tune of about $2/kg/ms on negative cashflows this year, but the strict discipline of only spending on essential costs will need to continue for a while yet.
Also not helping is the second financial credit downgrade for Fonterra, after the recent large capital upgrades of processing plant throughout NZ has needed big borrowings and returned slower than expected profits.
June tonnages reveal record volumes of palm kernel have been fed, and Fonterra's decree to reduce usage will impact heavily on many farming systems as this low cost feed is difficult to replace with similar feed value alternatives when shortages occur.
The rural realestate season has got off to a hesitant start on the back of the dairy downturn as the lack of conversions and purchases of run off blocks has dampened demand in other landuse sales.
Although the bobby calf kill is ahead of last year agents believe more heifer calves have been harvested but more bull calves reared, and an early sale in the Waikato saw 100-120kg animals average over $4/kg lwt.