The Weekly Dairy Report: Higher dividend prediction could be lost with dropping payout after the auction result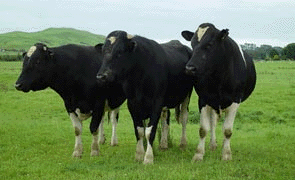 More recent useful rains has lifted farmers spirits in the south, but mixed with days of cold temperatures has done little to lift pasture growth rates that are needed for the silage harvest.
In the North Island significant moisture has fallen  to improve grass growing potential more to the norm, and managers can now plan further ahead with rotations and the conservation of pasture surpluses.
Mating management indicators of 90% submission in 3 weeks has been reached by many as the gold standard for joining, but some dry poor producing cows are still being culled to the saleyards and the works, but now on a falling schedule.
Mid October bobby calf processing numbers reveal totals are well back on last year suggesting more animals have been reared or cows were culled heavily before calving.
The market news has not improved with analysts again predicting more falls at this week's milk auction, and now suggest that Fonterra may have to lower the forecast downwards in late November.
And overnight that just what has happened, with the global dairy auction falling another 7.9%, and the key ingredient whole milk powder back 11% to US$2148/tonne.
This latest falling trend that has taken over 18% out of global dairy prices in the last three auctions will have surely severely dented the Fonterra forecast payout and an adjustment downward next week seems very likely.
A surprise announcement from Fonterra on Monday resulted in a 0.5c lift in the predicted dividend for 2015/16 season to 0.45-0.55c/kg ms which is at last a recognition that the huge investment in added value capital is  returning value, especially in these times of low prices for milk.
While milk volumes offered have been lower at auction and New Zealand's production projections back by 5-6%, global flows especially from Europe have not followed this countries lead, and this extra supply has weakened demand.
The Reserve Bank has again expressed concern about dairy debt which has increased dramatically in the last 12 months, and insisted the banks apply the stress test on their dairy portfolios.
The ANZ bank economist believes dairy farmers need to reduce their costs permanently by 0.50c-0.75c/kg ms as an adjustment to the "new lower" income levels which seem may be around longer than first predicted.
Farm spending has tightened significantly especially in the dairy regions, and as an indicator, tractor sales have dropped in some of those provinces by as much as 30%.