John Brosnan get practical on how to stay compliant with law around leave, holidays and vacations over the Christmas and New Year period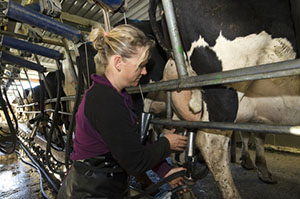 With Christmas come the usual requests for leave, the considerations around staff to cover statutory days and the questions around their pay that this always brings.
So we thought it was a great time to refresh everyone on just what the rules and regulations around holidays and pay are.
Staff are required to apply for leave, but application and approval is not the same thing. If it's not suitable for the employer they can decline a leave request. The employer should take a view of being as fair and reasonable as they can, but need to consider that they have a farm to run, therefore unfortunately this may mean that the leave request is not convenient.
A hint for employees here, it always helps to plan in advance and give your employer as much notice as possible as to when you would like to take your leave. If you wish to have New Year's off then, let them know now not on Dec 27th and certainly not on January 1st
This year Christmas and New Year's days fall on a Friday, and Boxing Day and 2 January are on a Saturday. Therefore the statutory holidays for Christmas Day and New Years Day are observed on the actual days, and the statutory holidays for Boxing Day and January 2nd are 'Mondayised' for those employees who usually only work Monday to Friday. That means those days will transfer to the immediate following Monday.
If your farm worker works on a statutory day then they are entitled to time and a half. Often on a farm it's the basics that need to be done – for example; milking, shed clean, cows in pasture and feed. Often this may only equate to a half or two thirds of a days work. What the employer often does is elects to keep the standard days pay unchanged. Why? Two thirds of a days work x 1.5 = a full days pay. Therefore there is no need for a change to the usually weekly pay.
The Ministry of Business Innovation and Employment requirement for all farmers to use time sheets, has now been taken on board by farmers, making it easy to track and validate to the employee what their pay entitlements are. The employee is also entitled to a day in lieu, which employee may take at another time – on agreement from the employer.
Relief staff - with the holidays often there is a need to find relief staff, to cover a holiday period for the occasional milking. All casual staff should be provided with an employment agreement.
It is important to note, that relief staff, if working a statutory day, are not entitled to a day in lieu, as it is not deemed as their regular working day. They do get paid time and a half, however, if they are a genuine casual employee, they are entitled to be paid holiday pay at 8% in addition of what they earn, either daily/weekly (as they go), or on their finish date, if employed under a short term contract.
---
John Brosnan is a business development adviser at CooperAitken Ltd, accountants in Morrinsville and Matamata. You can contact him here