The Sheep, Deer and Cattle Report: Velvet and Venison strategies on track to improve deer profits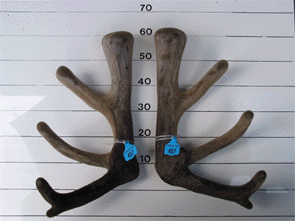 DEER
More venison summer schedule falls at rates ahead of last year as prices now adjust to frozen demand and a European currency that has recently firmed.
Positive comments are coming from exporters involved in the Cervena trial into Holland which sold 37 tonnes in year 1 and they are confident they can build summer sales in Holland and Belgium to 200 tonnes in the medium term.
This early success of the Passion to Profit scheme has allowed planners to suggest that if they can get the 6 new target markets to consume 1200 tonnes of chilled summer  venison this could generate another $1.60/kg cwt per animal and improve venison profitability significantly.
Sire stag sale viewing and purchasing starts up north this month and managers will be looking for genes to improve the profits from both velvet and venison production.
After a slow start, velvet sales have resumed, Chinese buyers have returned, and prices are similar to last years good levels.
Also the Korean parliament ratifed the FTA last night allowing the excise tax on velvet to be removed on 1 Jan 2016, giving producers bigger margins and allowing further growth in the healthy food market that at present uses about 25% of NZ's production.
LAMB
The falls in lamb schedules are producing disappointing returns for lambs off the mother in weaning drafts, and prospects for further price falls look likely as the global frozen market has still not cleared itself of surplus stocks.
The early optimism for sheep has fallen and some North Island ram sales have seen many animals failing to meet their reserve prices.
Latest Beef and Lamb NZ figures on this years lamb crop show it will be the smallest harvest for 60 years and lambs to slaughter down 8%, to below 20 million.
The cause of this drop is less breeding ewes especially in last years drought areas, a drop in lambing percentage (121% average nationally), less lambs from hoggets, and land use changes.
The store lamb market has dropped with the schedule and the increasing dry, with Canterbury prices now in the $2-$2.30/kg LWT range and smaller animals difficult to sell, but in the North farmers with feed paid 20-30cents/kg lwt more.
Positive reports are being heard of the planning for stage two of the Central Plains Water scheme in Canterbury with high levels of farmer commitment and half the irrigation water ready for the 2017 season and the project completed the next year, while the Hawkes Bay Regional council believe they have a viable solution for the construction of the Ruataniwha Dam.
WOOL
The North Island wool auction produced a mixed result with both crossbred price indicators falling from the last week's southern sale, but the cancellation of the next NI event due to lack of wool, should keep supply pressure on price levels.
The Brokers, Merchants and Wool Exporters reminded farmers of their importance in selling NZ wools, and suggest the fanfare over small volumes of specialty wools sold at a premium by some companies should not override the large quantities sold each week by them to the global market.
BEEF
The falls in prime beef schedules seem to be slowing but manufacturing product is still under price pressure on the back of the growing quota stocks awaiting the new year allocations.
Saleyard demand for prime steers has held surprisingly well in these dry conditions helped by the influence of irrigation in the region and better winter growth rates achieved by young animals fed fodder beet.
Demand for store cattle is now being heavily driven by feed as good rains up north improves summer  prospects while dry eastern areas of the South Island are destocking surplus cattle fast and prices for longer term cattle have eased accordingly.
The Land and Water forum has released it's 4th report with it's main recommendation excluding all large animals from waterways on the plains and lowland hills.