The Weekly Dairy Report: Dairy futures looked hopeful but auction again fails to deliver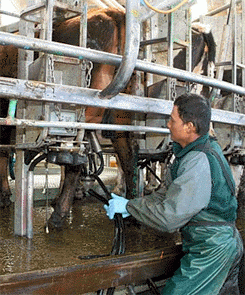 Cows are still being dried off as national milk flows are expected to fall by over 6% this season, but Fonterra  was still unable to lift the $4.60/kg ms forecast.
Numbers of dairy cattle dropped for the first time since 2005 from both the milking herd and replacements with total numbers  300,000 less than last year.
Farmer confidence remains low as the drought and poor income levels deals to farms profits, although lowering of the OCR by the Reserve Bank has kept the cost of borrowing at near record lows.
In a review of the risks this dairy downturn could have on the banks,  the central banker believes between 2-14% of dairy loans may fail if this price slump continues much longer.
After early optimism in recent dairy future trades last nights auction results disappointed, with prices only lifting slowly even for the lowest volumes offered this year.
The majority of the bank economists are predicting returns below Fonterra's estimate, and unless WMP prices lift to at least $3000/tonne US early in the new year there is still a chance of even a lower payout.
Big extra milk volumes out of Europe are filling New Zealand's shortfall and flat forward pricing illustrates the market is unconcerned supply issues will arrive anytime soon.
A new scheme to address the skills shortage in the dairy sector was launched in Canterbury as the industry seeks to fill the gap with local participants.
SAFE has negotiated a meeting with Fonterra and MPI on the bobby calf welfare issues, but farmers are cynical on their motives based on how long they took to report these abuses.
The dairy sector on the West Coast is heralding the success of farm management changes in improving the quality of Lake Brunner five years ahead of their plans, and shows that a targeted action approach can solve this environmental problem.