The Sheep, Deer and Cattle Report: Sharp drop in lamb market as managers have difficult decisions on what to buy to utilise feed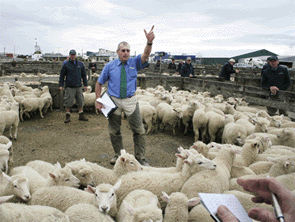 LAMB
Schedules dropped sharply this week on a soft market, as processors report that frozen forequarters purchased mainly by customers from China and the Middle East, are now priced at 15 year lows and are heavily influential in the present low returns.
The local trade lamb schedule followed export prices down and prime lambs sold via the saleyards are now averaging in the late $80's, back from the $90's pre Christmas.
An autumn contract for prime ewes has been set at 280-290c/kg CWT for the north and 255-265c/kg CWT for the south, which is above the present market by $3-$7/ head for an average cutting ewe.
A small glimmer of hope that could increase future demand for lamb, with NZ lifting the trade sanctions for the Iranian market which in the 1970's was the countries largest destination country for that product.
Last months rain has reinvigorated the store ewe market with a strong sales seen in all saleyards from farmers keen to restock their depleted breeding flocks after selling early for the predicted dry El Nino.
With cashflow sure to be an issue with the weak lamb prices, many farmers will be in quite a dilemma with what to do with surplus feed, as returns from earlier sales do not cover present price levels for store stock.
Also, alternative grazing options appear thin, with dairy grazing opportunities shrinking, store beef cattle pricing looking more risky, and demand for selling surplus feed weakening with every rain, and the banks sure to be nervous about lending more at present.
WOOL
Another double island wool sale saw prices ease on the back of a stronger exchange rate especially for the influential US dollar, as prices fell across the board and vendors expressed their displeasure by passing in 30% of the South Island offering.
Wool Services International is offering through its Purelana brand a second shear contract at $5.70 /kg clean, as they look to attract a firm supply for it's existing customers.
With last months rain, good lambs wool prices, and poor meat values, more works lambs should be shorn this year as managers look to keep cash flow going and try to increase weights to compensate for poor present returns.
BEEF
Stable  beef schedules this week as processing numbers fall, and volumes are now behind last year after being well ahead a month ago.
South Island local trade schedules lifted again this week and gave a boost to prime steers at the saleyards and values returned over $3/kg lwt for quality animals.
Shortage of supply seems to be an issue in those areas that suffered from early feed deficits, and processors report some difficulty meeting demand for chilled beef orders.
The store cattle market followed upward in spectacular fashion with last weeks small yarding at the Canterbury saleyards attracting bids well in excess of that offered for prime animals, and suggests the beef weaner calf market should also be hot if feed conditions allow.
DEER
More stable venison prices this week that reflects a summer bottom, and successful negotiations for the frozen programmes.
With few options avaliable out of the unprofitable sheep and dairy sector, renewed interest appears to be starting at last for breeding hinds and strong demand continues for animals with velvet genetics no matter what sex.
The velvet harvest season comes to a close with growers very happy with prices and will now be preparing for the mating and the roaring period, where good management practices are needed to minimize environmental  damage and weight loss to stags.