The Weekly Dairy Report: Some signs bankers are starting to move on heavily indebted as turn around will take longer than thought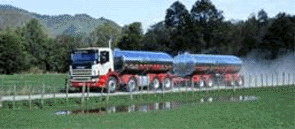 A dry week nationally with some areas again beginning to frizzle up after the recent hot temperatures and NIWA reminding weather watchers they anticipate El Nino conditions will hang around for a month or two yet.
In Canterbury the Opuha dams irrigation restrictions have been lifted as the lake has filled enough to give hope the autumn watering period will be unbroken, and January rains have seen a spectacular turnaround for dryland feed conditions.
 ECan has announced changes to the Hinds/Hekeao plains environment plan in Ashburton with restrictions on further land intensification to try and reduce the high levels of nitrates in the groundwater, but as there was plenty of farmer involvement in devising these changes good support is expected.
Spore counts have lifted in the upper North Island with all the moist weather and zinc supplementaion is being increased to prevent facial excema affecting livestock grazing at risk pastures.
The Oceania dairy prices were stable after the poor auction result that saw prices fall by 7.4%, lead by whole milk powders which dropped by over 10% and shattered any hopes of an early recovery this year.
Production figures in Europe continue to increase in a global market awash with milk, and reflects inefficencies of their subsidised systems, and now the French are asking the EU to pay them to reduce milk flows.
Unfortunately more falls are being seen on the futures platform for whole milk powder trades, and farmers will be hoping that results in next weeks auction may at least make a bottom to this unsustainable milk price market.
Once again farmers will have to try and trim their budgets even harder to survive, and the present problems are sure to affect all dairy graziers as well.
The recent reduction by both fertiliser Co-Ops on the price of Urea and DAP will be a welcome help in reducing costs, but  talk of an uncompromising stance by one bank to Southern indebted dairy farmers, and an increasing number of recievership sales notices in real estate pages, makes all in the sector nervous.
The latest Federated Farmers  survey revealed low levels of confidence driven mainly by poor commodity prices and difficult climatic conditions.
In Southland there has been an upsurge in feed pads and barns as managers look to overwinter at home, and keep animals off wet soils to ensure environmental standards are being met.