KPMG partner sees glass half full when looking at agri industry; says sector is diverse enough to weather the dairy downturn despite dairy making up 67% of agri lending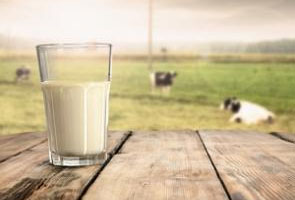 By Jenée Tibshraeny
Those in "the media" are being accused of painting an "incredibly black picture" of the New Zealand economy by using plummeting dairy prices as a measure of our agricultural sector as a whole.  
KPMG's global head of agriculture based in New Zealand, Ian Proudfoot, says "The media have adopted the dairy industry, or more specifically, the GlobalDairyTrade (GDT) auction results, as their proxy for the success or otherwise of the New Zealand primacy sector.
"The last year has seen journalists increasingly hone in on the bi-weekly price movements of the limited range of dairy commodity products sold through the GDT platform (often in declining quantities) as a key bellwether for the economic wellbeing of farmers and the wider New Zealand economy."
Proudfoot makes these comments in KPMG's Financial Institutions Performance Survey Review of 2015' (FIPS), released today.
A clue as to why dairy prices are under the media's microscope  
Yet the figures detailed in a different section of the report tell a different story, perhaps providing some explanation to the media's supposed fixation on dairy price movements.
KPMG recognises growth in agricultural lending outpaced growth in lending to all other sectors by the end of 2015, "with a lot of this growth coming from dairy".
Dairy loans made up 67% of agricultural lending by banks, at $37.86 billion.
KPMG admits only a small portion of the growth in agri lending related to new dairy lending, with the majority being working capital loans to existing customers.
It says banks are keeping a close eye on their exposures, as dairy payouts remain below breakeven point, and the RBNZ and DairyNZ estimate 80% of dairy farmers will have negative cash flows in the 2015/16 dairy season.
"With the recent cut in Fonterra's payout for the 2015/16 season to just $4.15 per kg/MS, the dairy sector will continue to be under extreme pressure," the FIPS report says.
KPMG goes further to say, "In June 2015 the country's biggest dairy lender, ANZ, reported having reduced its dairy exposures by approximately 16% or $11.3 billion since 2010, having estimated that 5% of its dairy book would be stressed in the upcoming 12 months.
"In November the RBNZ reported that although non-performing dairy loans were still low at 1%, up from 0.6% the previous year, the watchlist loans increased to 5.8% and were considered a leading indicator of non-performing loans."
NZ's agri sector diverse enough to weather the dairy storm
It is against this landscape that Proudfoot argues New Zealand's agricultural sector is diverse enough for dairy's storm clouds not to cast a shadow over the entire sector.
He admits dairy farmers are facing strong headwinds, but says there's optimism in the primary sector if you look beyond this.
Kiwifruit has recovered quickly from the Psa disease, beef farmers are enjoying high prices held up by solid demand, and the value of wine exports is at a record high. There are also positive growth stories in the honey, pip fruit and fishing sectors.
"The beauty of New Zealand's primary sector is its diversity… yet the wider community has been conditioned to largely measure the sector's contribution to the economy on the basis of a single metric, dairy prices," Proudfoot says.
He goes further with his "glass half full" approach, saying cheaper milk could see the dairy sector broaden its customer base, as more people would be able to afford to buy it.
However he admits there's a limit to this theory, and a price rebound could force the dairy sector to have to "earn its loyalty".
Dairy farmers may be strapped for cash, but now's the time to innovate
Proudfoot says the industry needs to get to know its consumers, so it can deliver products that fit with their lifestyles.
"This requires the industry to think carefully about the products it supplies the market and invest, not only in the stainless steel needed to process the milk, but the branding, innovation and consumer experiences that differentiate our products and secure a premium," he says.
"To me, the key development over the last year has not been the shifts in dairy pricing, but the clear emergence of some really disruptive thinking and technology into agriculture across the world, and the dairy sector is not immune from this disruption."
For example, he cites an investment Coca-Cola has made in the dairy company, Fairlife; Coke expressing its interest in growing its business by focusing on health and nutrition.
"While many of these alternative products remain some years away from commercialisation, we cannot ignore the disruption that is coming to the global agri-food system or underestimate the pace at which the change is going to be adopted," Proudfoot says.
'The food, fibre & timber equivalents of a Louis Vuitton handbag or an Apple iPhone'
Proudfoot maintains New Zealand needs to focus on innovation to bring high-end products to the market – even during a time dairy farmers are struggling to keep their heads above water.  
"Our products need to stand out in a crowded marketplace to command a premium. Our products need to be the food, fibre and timber equivalents of a Louis Vuitton handbag or an Apple iPhone," he says.
"Despite the headwinds, now is the time to boldly invest in the innovation that will differentiate our products in the minds of consumers and preserve the premiums we have enjoyed in the past. There is no other choice but to invest in the future."