The Weekly Dairy Report: Reality bites with Fonterra's $3.90/kg ms for this year and prediction next will also be tough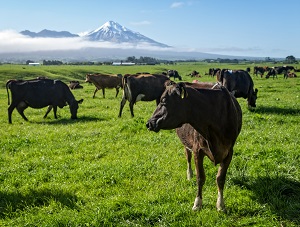 March has started like February, hot and dry, and some dryland areas are returning to the tight feed conditions of December after above average temperatures and no rain this month for most of New Zealand
Rain is predicted for this week but with soils very dry, large volumes will be needed over the month to have a significant effect on pastures.
Pregnancy testing and performance are being used as culling parameters and numbers are still flowing into the saleyards as managers fine tune their herds to carry only the very best animals.
Numbers of genuine productive cows offered for sale is increasing as sharemilkers look to exit the industry and prices are easing with few optimistic enough to purchase.
Unrecorded cows are now selling under a $1000/hd and many quality recorded animals can be purchased for around $1600 for those with the courage and money to upgrade.
At last some signs at last week's auction that the bottom may have been reached as the basket of milk commodities rose by 1.4%, lead by whole milk powder which lifted in price by 5.5%.
While some analysts see this as just a blip in a downward trend, others believe more interest from China and lower auction volumes will be helpful in starting a long slow upward trend.
However, yesterday that optimism took a large blow with Fonterra lowering the payout to $3.90/kg ms and warning of a slow recovery for next year.
They plan to make a further announcement on March 23 that suggests some further assistance for it's shareholders, and need to report details of it's financial performance as criticism builds from some analysts of the growing debt load the company holds.
This may be the final straw for some working hard for no return, and all lenders will be examinng their dairy portfolios to evaluate exposure to this downturn, but care will be needed as a sharp fall in land values will put pressure on many more in the sector.
The European Union predicts milk output from that region will continue to grow in 2016 and 2017, lead by Ireland, Denmark, and Holland and globally it is estimated the production rise is 3.5m tonnes of milk solids, but increased demand will only handle under half this volume.
EU officials have responded to criticism that this over production has been caused by farmers from their area, by reminding the rest of the world that NZ's milk flows have increased by 36% over the last 8 years compared to the EU's 10%.
Landcorp are also feeling the heat with their large dairy portfolio unhelpful in the reported 6 month loss, and the curtailing of the forest to dairy development is sensible given the present market and environmental implications.
Fonterra have also been criticsed for delaying it's payment responsibities to 90days for those larger firms that supply services to the Co-Operative, but such has been the outburst in the rural community this will have far reaching effects to many.
Ravensdown has lead with further cuts in the price of Urea by $20/tonne that will see this fertiliser at it's lowest value since 2007 and be some help in lowering costs on farm.