The Weekly Dairy Report: Managers battening down for the long haul as an upturn seems a long way off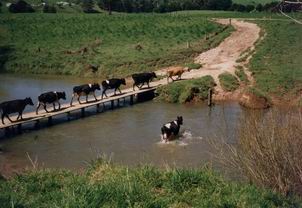 The top half of the North Island and the West Coast has good soil moisture levels, but the rest of NZ, although they have had good rains in March, are all suffering from dry soils.
Temperatures are cooling in the south, and autumn feeding plans are being made for some to accomodate winter as cost pressures have ensured the cows are being held at home.
Others are trying to talk down the grazing rates in areas of plentiful feed, but at below 20c/kg DM other alternative stock systems may be more attractive.
A strong outbreak of facial eczema has been reported in the Tarankai region and managers will need to use all the tools avaliable to prevent this disease having an impact on future production.
Cow numbers are being trimmed and trimmed again as only the most productive cows are being kept, as managers try to make their systems lean and mean and efficent as possible.
Many farm owners have had to go back into the milking shed as staff numbers are trimmed and immigration rules are tightened, and some commentators are concerned that gaps in skilled labour will occur when the turnaround arrives.
The market news was dominated by Fonterra's 6 month finance announcement with a significant lift in predicted profit on the back of the low prices for milk.
They raised the dividend return to 45-55c per share, and announced they would pay 20c early in April, and two 10c payouts in May and August, to help fill some gaps in farmers cash flow budgets.
On it's own this will be nowhere near enough for most, but this positive news and Fonterra's plans to lower debt to 40-45% by the end of the financial year, will be a welcome boost for farmer morale.
Although not all analysts agree, they predict global dairy prices will lift by the end of this year on the back of increasing demand from China and a production fall from Europe.
National production figures fell 2% for the season to date, as lower stocking rates and drier conditions affected milk flows.
Dairy farm values have fallen by 20% in the latest REINZ index. and it is reported 35 farms are under bankers supervision in Southland.
Water quality continues to be an area for discussion and under these tough financial times farmers will need to farm smarter and those that invested early and wisely to address these issues will be starting to see results in nearby streams and rivers.