The Weekly Dairy Report: Good lift by WMP at auction but most agree farmers will have to wait another year for any significant upturn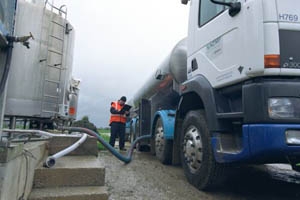 Temperatures have stayed mild and any areas that have had moisture have had good grass growth rates and production figures have held up better than first predicted because of the strong grass growth up north.
Dryland pasture growth rates have plummeted in eastern South Island areas and with the balmy conditions has irrigated grass growing well, but cooler nights are now having an impact on soil temperatures.
The dry cow rate seems to be higher than normal at around 15-16% in Canterbury and when added to mastitis infected, poor and aged cows, some farmers have found they have not enough replacements to replenish the herd.
The beef chains are booked until May with the dairy cow cull, and saleyard numbers grow for those without surplus feed to allow them to wait.
New animal welfare proposals are out for consultation and after last years expose, bobby calf care is under further scrutiny.
It has been reported that a third of the fodder beet sites visited in Canterbury contained velvetleaf weed, and officials are urging farmers to revisit crops for late flowering plants.
The auction overnight brought some much needed relief to milk prices with a 7% lift in whole milk powder prices leading the pack, with analysts suggesting demand is growing, but the market is still fragile.
Fonterra's governance review has suggested reducing the directors down to 11 from 13, and 6 including the chairman would have to be farmers.
This has not satisfied the critics but it is a move in the right direction and further pressure from the shareholders may see it reduced further in the future.
This company is still losing market share to it's main opposition of Synlait, Open Country Dairy, and Westland, and if it continues to underperform and not listen to it's shareholders, more could exit.
More evidence is emerging that it will be 2017 before any milk price upturn will be seen, and with some early farm foreclosures being made public, it will be a testing time for the heavily  indebted operations.
ASB has continued to express more optimistic views than other banks, and is now suggesting that next season should start near $5/kg ms but finish at $6 at the end of the 2016/17 year.
Westland has opened it's new UHT plant at Rolleston as they look to add value from liquid milk and whipping cream, and report they have already added 20c/kg ms to the payout by targeting further value products.