Global demand for New Zealand wine tipped to grow in 2016 – with larger producers set to take advantage: Rabobank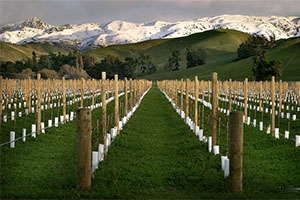 Content supplied by Rabobank

Rising global demand for New Zealand wine points to further export growth for the industry in 2016, and it's the country's larger wine companies likely to reap the benefits, according to a new industry report.
In its recently-released Wine Quarterly Q2 2016 report, agricultural banking specialist Rabobank says demand growth for New Zealand wine is expected to continue in 2016 with the country's cool climate wine styles and premium positioning remaining very much in favour in most major export markets.
Report co-author, wine analyst Marc Soccio says consumers in major wine markets across the globe appear willing to pay up for more expressive and lighter-bodied wines such as those produced in New Zealand.
"And there is little evidence of this trend reversing any time soon. In fact, the growing role women and younger generations play when it comes to purchasing decisions only seems likely to support it further." he says.
Mr Soccio says the positive news for the New Zealand wine sector on the demand side was also being matched by good news on the supply side, with the 2016 production volumes of New Zealand wine grapes expected to be significantly higher than in 2015 although within a manageable range.
"The volume of the 2016 vintage looks like it will be just right – it won't be too big, yet it also won't be too small for most companies entering the year with stocks erring on the tight side," he said.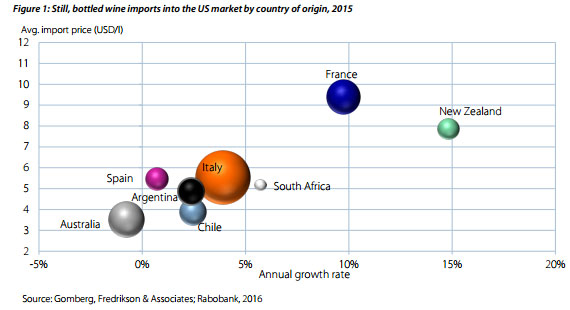 Larger wine companies advantaged
Mr Soccio says while there are a number of positives for the industry, there was some concern that the apparent upside is becoming increasingly concentrated in the hands of the country's largest producers.
"One of the key factors favouring New Zealand's larger producers is their ability to source suitable distribution in key growth markets and channels. This is especially significant given the US, where distribution is so crucial to success, edged out the UK as New Zealand's largest export market in 2015," he said.
"As New Zealand wines move further and further into the off-premise channel, scale becomes an increasingly important factor to attract distribution and drive the sort of cost efficiencies needed to invest behind your brands in the market."
Mr Soccio says a further factor, which placed New Zealand's larger wine producers at an advantage over smaller domestic competitors, was their capacity to supply a greater proportion of their own grape requirements, both now and into the future.
"What is becoming increasingly evident is that a combination of limited market opportunity and limited access to cost-competitive supply is placing pressure on the profitability of small to mid-sized wine companies," he said.
As a result, Mr Soccio says, industry consolidation is likely to gather pace over the coming years, as mergers and acquisitions seek to more profitably employ the assets of smaller independent firms struggling to compete and grow.
Over-reliance on Marlborough sauvignon blanc still small, but real, risk
Although the demand outlook for Marlborough sauvignon blanc is strong, the report also notes concerns are held about the risk of New Zealand wine's over-reliance on one region/variety.
"Despite its popularity, the high degree of exposure that the New Zealand wine industry has to one variety from one region still makes its fortunes the subject of great conjecture," Mr Soccio says.
"This risk is still small, but increasingly real, with no shortage of cautionary examples of 'shooting stars' within the global wine market over the years. Inevitably, demand for Marlborough sauvignon blanc will indeed plateau and even wane in markets and therefore it's important that the industry looks to put investment behind other products."
Mr Soccio says the success of Marlborough sauvignon blanc made it difficult for other regions and varieties to compete for capital but, nevertheless, some investment in other varieties and New Zealand regions was taking place.
"Marlborough wine companies are having notable success with pinot noir and pinot gris, while other regions, such as Hawke's Bay and Central Otago, have their own diverse offering to bring to market, and they will continue to benefit as Marlborough-based companies seek diversification benefits elsewhere," he says.
Global supply and trade flows
Looking more broadly at the global market, the report says the balance of global stock levels entering 2016 looks considerably different at opposing ends of the market.
"The lower end of the market – generic and basic wines – continues to contend with surplus supply, while stocks of super-premium wines remain a bit tighter across many regions," Mr Soccio said.
Looking ahead to the 2016 vintage, Mr Soccio says indications point towards a lighter crop for the southern hemisphere in 2016 with Chile, Argentina and South Africa facing significant falls in production,
"On the demand side, the US saw a strong rise in imports in 2015 assisted by the stronger US dollar, while there was also a notable rebound in import demand in the Chinese market," he said.
"Bottled wines from more premium suppliers (especially Italy, France and New Zealand) continued to grow strongly in the US market, while bulk wine import volumes were generally soft, down four per cent year on year." 
---
The full Report is here.