The Weekly Dairy Report: Most pleased this season is over and wait nervously for the starting price for 2016/17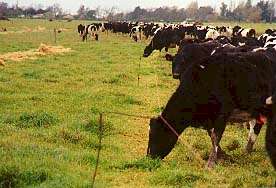 At last rain relief, with many of the dry areas receiving good moisture over the last week and more predicted as the drought spell is nearly over, but it's effect will linger as temperatures drop with winters arrival.
Demand for supplementary feed has increased from the dry areas, as the autumn drought takes it's toll on all grass systems.
Managers will need to keep a look out for further evidence of velvet leaf weed in their fodder beet crops, as a fourth seed line has been confirmed as contaminated.
Winter feed budgets will have been done as managers look to plan for optimum body condition score and feed covers at calving, so next years production gets off to a good start.
Numbers of cows being dried off have increased, but some with feed are milking through to the end of May to maximize production and minimize losses.
Fonterra have declared another 10c dividend payment to be paid early on June the 7th to again help cashflows, and the sector awaits with interest the milk futures launch at the end of this week.
Last weeks auction result saw milk commodities lift by 2.6% with whole milk powders again lifting above that rise, but skim milk powder fell again, reflecting a major global oversupply of that product.
Some overseas analysts believe that the recent cool weather and weak prices are starting to curtail milk production in Europe, and this cannot come soon enough for the rest of the global dairy community.
With next years predicted payout prediction due tommorrow from Fonterra, the ASB has suggested it will start at $4.80 and end at $6.00/kg ms.
Fonterra Australia have had a very hostile response from suppliers to the drop in their payout price, and analysts suggest market share could fall after their poor handling of the downward adjustment.
Back in NZ they also have had problems with temperature controls on some of their stored product with suggestions a significant bundle of stocks could be at risk because of incorrect levels to keep it safe.
Oceania's Glenavy expansion will require 200 extra jobs, and give the local economy a welcome boost from this development when other parts of the sector are retrenching.
Fertiliser Co-Op Ravensdown has recognised the serious financial plight of many of its sheep and dairy shareholders, and are paying their $21/tonne rebate 3 months early, and reducing the price of Urea for important spring applications.
The annual Dairy awards have been held and all in the sector should focus on how these high achievers have succeded  in achieving their goals, in what for all has been a difficult year.