The Sheep Deer and Cattle Report: Velvet returns again excel as southern saleyards run out of stock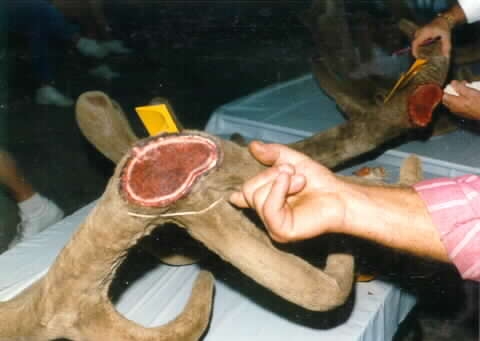 DEER
Stable venison schedules this week, but uncertainty in Europe and the strenthening currency has cast a shadow on earlier optimistic price  prospects for venison.

Velvet returns for last year were revealed at a very strong $125 a kg and with increasing volumes, these prices will only be maintained if more product can be consumed into the healthy food sector.
The Advanced Party farm system is growing and gathering pace and has now exceeded it's original targets, and the challenge now will be to ensure the on farm findings are followed by the wider industry, to improve profits and reignite growth.
LAMB
Export schedules continue to disappoint with further winter easing as processors grapple with how the changes in Europe  will affect the sheep meats market.
Processors have stated NZ is lucky with the timing of the vote, as at present trading is in the off season period with little uncomitted stock on hand, and the market will have time to transition before big numbers arrive next year.
Currency is still driving this uncertainty but companies are hopeful shortages in the Middle East and an improving Chinese market will ignite this trade soon.
There was however a good lift in South Island local trade lamb prices, as stock shortages in the south, pushed values above the north, and ahead of last years returns.
Store lamb values in the south have also risen on the back of this short supply and vendors are receiving nearly $20 a head more than a year ago.
Silver Fern Farms have reached an agreement with Shanghai Maling for an extension to start their partnership on 4th January 2017, if they get OIO approval by 30 September this year.
A meeting in early August will test the support of the opposition to this deal, but nothing in the status quo suggests "carry on as normal" will improve prospects for this sector.
ANZCO's results were reported this week and failed to inspire, so the opportunity to sell into a huge Chinese supermarket supply chain proposed by the new meat partnership, would be brave to ignore.
This weeks Sheep Industry awards showcases excellence within the sector and provides a yardstick for many to improve profitabilty from farming this animal.
WOOL
The final South Island wool auction for the season saw the market finish on a very disappointing low, with all indicators at the bottom for the year.
Only two thirds of the offering sold, as weak Chinese demand and the currency, which lifted 9.3% against the British pound, weakened the market.
Wool has this year, had a worthwhile contribution to sheep farmers returns, so the fall in the market is double blow to this sectors profits.
BEEF
Bull schedules eased slightly this week but prime beef returns were stable, on rapidly lowering kill volumes.
It is interesting to note that farmgate bull prices are rising at the saleyards, as export values are falling, and early sales of 100kg Friesian bulls have been making well over $5/kg in the Waikato.
In the southern saleyards noticably less cattle are being offered due to heavy autumn trading, and more recently the mild winter and low stocking rate allowing managers to farm conservatively with the stock they have.
Rabobank predict the current weakness in the fertilizer market will continue, as prices for Urea and DAP are the lowest seen for years.
They also state they believe farmgate prices for beef will continue to strengthen, but how far will be dependent on the US market that is now awash with all types of meat.