The Weekly Dairy Report: The sector now on the up but debt repayment will be the first priority before other farm spending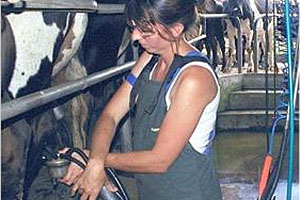 More significant rains last week set the scene for strong grass growth in December, and the challenge now will be to maintain quality in the sward.
Lack of sunshine has affected growth rates in lambs, and some dairy farmers are reporting lower BCS in their milking cows, despite the plentiful feed supplies.
Fonterra's AGM was a much more positive affair than last year, with the company reporting a 6% lift in earnings in the first quarter as added value goes well, and suggesting $6.40 including the dividend, would be the most likely payout this year.
Two more processors reported upgraded forecasts, with industry leader Tatua at $6-$6.50, and Maraka close by at $5.80-$6/kg ms.
Auction prices last week rose again, as the basket of commodities lifted by 3.5% and prices are now at their best levels since two years ago.
Dairy farmers are becoming more optimistic, as shown in the latest confidence survey, and this is also reflected in increasing dairy cow and heifer prices.
Many however will be rueing the poor spring and lower production, and October production figures showed this seasons peak has well and truely gone.
Another milk processing plant started construction in Southland, as Mataura Valley Milk and it's Chinese partners bring more competition into the market.
The courts are enforcing the animal welfare legislation, as a West Coast farmer was heavily fined for breaking tails in his animals and this is a blight on all who work in the sector.
The MPI Situation and Outlook report gives agriculture a stable forecast for 2017, but within, there are big winners and losers in the different sectors.
Dairying income is predicted to rise by 3% in 2017 with price lifts unmatched by production in many regions within the country, but they are much more optimistic for 2018 where they predict a 24% lift in revenue for the dairy industry.
Sharemilkers are still reporting bankers are keeping the financial pressure on their businesses, as lack of land equity makes this group more at risk than dairy farmers with land.