The Sheep Deer and Cattle Report: A European Cervena trial has been successful selling chilled meat out of the traditional eating period and has been paid a summer premium for product normally frozen down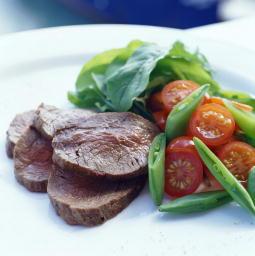 DEER
More stability in venison schedules as strong demand from the EU for frozen product is sustaining the summer production.

Exporters are reporting strong sales of spring chilled product into the market even at the better price levels, and the challenge for the industry is to maintain these sustainable values well into the future.
The five exporters who are involved in the summer cervena trial are pleased with the second year results and have commited to a third. 50 tonnes of product was sold chilled in the summer season at a premium over frozen of Euro 2.5/kg reducing the dominant autumn seasonality of the meat, which was a major goal of the industry funded programme.

Still no news on this seasons velvet pricing, but country of origin labeling trialed by two traditional velvet companies should protect the integrity of NZ product in the market place.
Industry officials report demand for the product is still strong and stocks are running out, but regulatory changes in the Chinese market for importers waiting for the new documentation, is holding up their purchases.
LAMB
Processing demand has ramped up this month, after historically low numbers in November that has made supply commitments difficult for exporters.
This slow supply has kept market demand firmer for longer than forecast, but schedules are now starting to ease back with an unhelpful currency as the summer looms.
MPI predicts returns for meat and wool farmers will fall by 11% on the back of lower returns for lamb, crashing crossbred wool prices and beef prices that are forecast to ease.
No changes on the Alliance board as high profile candidate Leon Black fails to topple the incumbents, and shareholders support the current direction the company is taking.
More store lambs are now entering the market and values have eased back to reflect the soft prime lamb prices.
The new Silver Ferns partnership is buying back the supplier investment shares as it looks to have only one class of shares in the new entity, down from the 3 classes that exist at the moment.
WOOL
This weeks combined island auction with big volumes of wool saw a 79% clearance, but prices fell further for all micron levels except merino, and at new yearly lows.
The first of the lambs wool was also offered and realized prices 334c/kg clean back on last year's similar sale, and will put into question the economics of shearing these animals if these prices continue.
These crossbred wool prices are disastrous for sheep farmers profits, with one big operator revealing his wool cheque was $100,000 back on last year.
Reports are filtering back in that the banks are tightening their lending criteria for purchasers of rural real estate, and with this years sheep budgets sure to be in deficit, farms will be come hard to sell at present price levels.
BEEF
Beef schedules came under some pressure this week as bull volumes lift, but demand is still strong for prime chilled beef with one processor predicting good demand for the next two months.
Some analysts are forecasting beef prices will ease later in 2017 as increased production in the US and Brazil drags down the world market.

Store buyers in NZ seem to be ignoring these signals however, as feed and few other alternatives drive the market to very high levels.

Saleyard prime steers in the south continue to enjoy a 20-30c/kg lwt advantage over northern venues, as the past North Canterbury drought caused shortages that are still appearing in the supply chain.