NZIER surveys the economic impact of the dairy industry to our economy in a report commissioned by DCANZ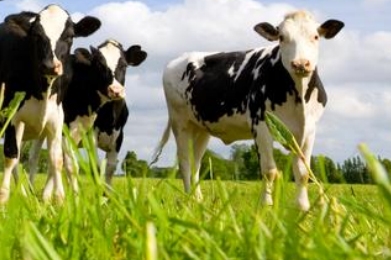 The NZIER has released a Report commissioned by DCANZ on the dairy trade's economic contribution to New Zealand.
These are the key points made in the Report:
---
This report shows that dairy continues to make a significant contribution to the New Zealand economy.
Dairy contributes $7.8 billion to New Zealand's GDP…
The dairy sector contributes $7.8 billion (3.5%) to New Zealand's total GDP.
This comprises dairy farming ($5.96 billion) and dairy processing ($1.88 billion).
…and remains New Zealand's largest export sector
Despite the recent drop in global dairy prices, dairy remains New Zealand's largest goods export sector, at $13.6 billion in the year to March 2016. Over the past five years, average export revenue has been $14.4 billion.
It accounts for more than one in four goods export dollars coming into New Zealand (29% in 2016, down from a high of 35% in 2014).
Dairy export growth has averaged 7.2% per year over the past 26 years.
The dairy sector exports twice as much as the meat sector, almost four times as much as the wood and wood products sector and nine times as much as the wine sector. It generates almost four times as much export revenue as export education.
Dairy provides jobs and incomes for over 40,000 workers…
The dairy sector employs over 40,000 workers, with 27,500 on farm and a further 13,000 in dairy processing.
Dairy employment has grown more than twice as fast as total employment, at an average of 3.7% per year since 2000.
It has created jobs at a faster rate than the rest of the economy in all but 5 territorial authorities across New Zealand.
The sector paid $2.4 billion in wages to dairy farming and processing workers in 2016.
The dairy farming sector has the second highest average wage ($46,640) in the wider farming sector, behind deer farming ($48,320).
The average dairy processing wage is $72,910, well above all other forms of food product manufacturing. The average food manufacturing wage is $58,200.
…and plays a crucial role in supporting regional economic development
Dairy provides over 1 in 5 jobs in three territorial authority economies (Waimate, Otorohanga, Southland); and over 1 in 10 in a further eight (Matamata-Piako, South Taranaki, Hauraki, Waipa, South Waikato, Clutha and Kaipara).
The dairy sector accounts for 14.8% of Southland's economy, 11.5% of the West Coast economy, 10.9% of the Waikato economy, 8.0% of Taranaki's economy and 6.0% of Northland's economy.
Dairy's impacts flow well beyond the farm gate and processing plant
Dairy farming supports a range of supplying industries: in 2016 farmers spent $711 million on fertilisers and agro chemicals, $393 million on forage crops and bought over $190 million of agricultural equipment.
Farmers also spent $914 million on agricultural services, $432 million on financial services and $197 million on accounting and tax services.
The dairy farming sector provides around $400 million of intermediates to the meat processing sector.
As well as taking farmers' raw milk, the dairy processing sector also spends significant amounts on packaging ($288 million in 2016), hired equipment ($199 million) and plastics ($174 million).
DairyNZ estimates that farmers have spent over $1 billion in recent years on environmental management systems such as effluent systems, riparian plating and retiring sensitive land, or about $90,000 per dairy farm.
The processing sector has also made substantial capital investments in the past four years, adding over $2 billion to New Zealand's capital stock.
Figure 1 Dairy processing investment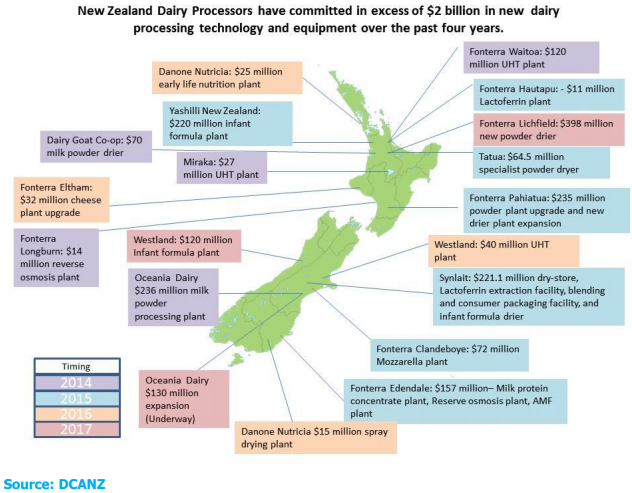 Further global or regional trade liberalisation would enhance the sector's ability to support the government's 'Export Double' target
If all global dairy tariffs were eliminated, and New Zealand's milk production is held constant, the value of New Zealand's dairy exports would increase by $1.3 billion, generating a $1.03 billion increase in New Zealand's nominal GDP.
Preventing a retreat to protectionism has considerable value to the New Zealand economy too
In a separate modelling scenario, if global dairy tariffs increased from their average applied rate to their average bound rate, New Zealand's dairy exports would fall by $2.3 billion, leading to a $1.66 billion fall in New Zealand's nominal GDP.
This provides an indication of the value of historical dairy tariff reductions due to multilateral, plurilateral and bilateral trade negotiations, or the benefits of preventing any backsliding towards trade protectionism.
---
The full Report is here.