Govt aims to have 90% of rivers and waterways swimmable by 2040, Environment Minister Smith says; Farmers are ready for the challenge - Primary Industries Minister Guy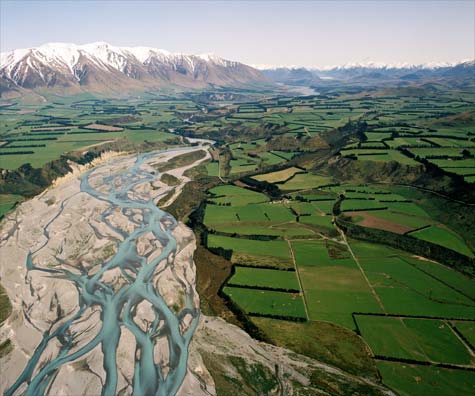 A new government drive for 90% of New Zealand rivers and lakes to meet swimmable water quality standards will see farmers required to install 56,000km of extra fencing - enough to circle the globe one-and-a-half times.
Environment Minister Nick Smith and Primary Industries Minister Nathan Guy announced Thursday the new goals for clean waterways, which are estimated to cost the government, farmers and councils $2 billion over the next 23 years.
New regulations specifically to exclude stock from waterways are expected to see costs of $367m, Smith said. The rules progressively apply to dairy, pig, dairy support, beef and deer farms from this year to 2030 relative to the steepness of the country, he said.
Read the Ministry for the Environment's draft regulatory impacts assessment of the regulations here.
In the document, officials say the stock exclusion option chosen has a lower cost-benefit ratio than other options considered, but that it would deliver the greatest environmental effectiveness. Total benefits are estimated at $983m, the Ministry for the Environment document shows.
The option chosen imposes the highest cost on farmers of all options. The document noted the burden the requirements will place on farmers: "For example, phasing in fencing and reticulation requirements for beef cattle over 10 years will result in costs of $5,391 per year and represent around 9 percent of the industry's five-year average profit."
The government's 'swimmable' target is based on meeting the water quality standard at least 80% of the time, in line with European and US definitions, Smith said. Currently 72% of rivers and lakes by length meet this definition, he said.
Read the announcement from Primary Industries Minister Nathan Guy below:
New freshwater reforms will result in 56,000 km more fences protecting New Zealand waterways from stock – enough to go round the world one and a half times, says Primary Industries Minister Nathan Guy.

The new rules on stock exclusion are part of the Government's plans announced today setting a target for 90% of rivers and lakes to be swimmable by 2040.

"Farmers have made huge progress in recent years to improve their environmental practices and this will be another important step forward. Dairy farmers have already voluntarily fenced off over 24,000km of waterways," says Mr Guy.

"We know that stock standing in or regularly crossing waterways can do significant damage. While dairy farmers have voluntarily fenced off around 96% of their waterways, we want to extend this to other types of farms as well.

"The proposed national regulation would ensure that dairy cattle, beef cattle, pigs and deer are kept out of waterways.

"We need to ensure the changes are practical for farmers, so the exclusions would be implemented in a staged process starting this year through to 2030, depending on the stock type and land slope.

"There are long term benefits for the primary industries and wider economy from these reforms. Overseas markets and consumers increasingly demand a strong environmental performance over and above regulatory requirements. In this context, protecting New Zealand's natural advantage has never been more important.

"No single organisation or group is solely responsible for improving our water quality. Meeting the target will take a collective effort, but the primary industries have a key contribution to make.

"In the meantime, the Ministry for Primary Industries continues to work with the primary sectors to invest in good ideas which promote environmental best practice. One example is the Farm Systems Change program, which identifies high performing farms and uses farmers' networks to spread their knowledge.

"Another is a major programme under the Primary Growth Partnership, called Transforming the Dairy Value Chain. Under this programme effluent management systems have been improved, and every region now has a riparian planting guideline developed in conjunction with regional councils.

"As a Government we are committed to growing the primary industries at the same time as improving water quality. Water storage schemes like Central Plains Water and the Waimea Community Dam help in this by taking pressure off groundwater sources and maintaining summer river flows, delivering both economic and environmental benefits.

"We also know that science will play a major role in improving our freshwater. The 'Our Land and Water' National Science Challenge is investing $96.9 million over 10 years into this, hosted by AgResearch and involving six other Crown research institutes.

To read the proposals, and find out how to have your say, visit www.mfe.govt.nz
Read the announcement from Environment Minister Nick Smith below:
The Government today announced a target of 90 per cent of New Zealand's lakes and rivers meeting swimmable water quality standards by 2040, alongside releasing new policy, regulations, information maps and funding to help achieve the new goal.

"This ambitious plan to improve the water quality in our lakes and rivers recognises that New Zealanders expect to be able to take a dip in their local river or lake without getting a nasty bug," Environment Minister Dr Nick Smith says.

"The plan is backed up by national regulations requiring stock to be fenced out of waterways, new national policy requirements on regional councils to strengthen their plan rules on issues such as sewage discharges and planting riparian margins, a new Freshwater Improvement Fund and new maps that clearly identify where improvements are needed.

"This 90 per cent goal by 2040 is challenging and is estimated to cost the Government, farmers and councils $2 billion over the next 23 years. It will make us a world leader in water quality standards for swimming, and that's important for New Zealand's growing tourism industry. It will return our rivers and lakes to a standard not seen in 50 years while recognising that our frequent major rainfalls mean a 100 per cent standard is not realistic."

The target covers the length of rivers over 0.4m deep and the perimeters of lakes greater than 1.5km, which total 54,000km. The plan is about improving the frequency that we can swim in our lakes and rivers, noting that even our cleanest rivers breach swimming water quality standards during storms.

The swimmable target is based on meeting the water quality standard at least 80 per cent of the time, in line with European and US definitions. Currently 72 per cent by length meet this definition, and the target is to increase that to 90 per cent by 2040. This means an additional 10,000km of swimmable rivers and lakes by 2040, or 400km per year.

"The maps I am releasing today provide the most comprehensive and consistent information on water quality for swimming of New Zealand's rivers and lakes ever published. These will help focus councils and communities on improving their local water quality, as well as help people make decisions about where they can safely swim. The maps are connected to the Land, Air, Water Aotearoa website that provides real-time information on water quality, which is particularly relevant for the fair and intermittent categories.

"The challenge of improving water quality varies significantly across New Zealand. This plan requires improvements in water quality across all regions and all categories. The target not only requires an improvement in areas that are swimmable, ie into the fair category, but also rivers and lakes being moved from fair to good, and good to excellent. Regional targets to achieve the national goals are to be worked through with regional councils by March 2018. Some regional targets will need to be greater than the 90 per cent and others, where it is more difficult to achieve, will be less.

The National Policy Statement (NPS) for Freshwater Management is being strengthened to support the new 90 per cent by 2040 swimmability target, as well as changes to address the issues of ecological health and nutrients by:

replacing "wadeable" with "swimmable"

adding macroinvertebrate monitoring for ecological health

strengthening references to "Te Mana o te Wai"

clarifying the consideration of economic opportunities

requiring instream limits for nitrogen and phosphorus

clarifying inclusion of coastal lakes and lagoons

clarifying the policy on exceptions

strengthening the requirement for monitoring and improving quality.

"The new regulations on excluding stock from waterways are an important part of this plan to improve water quality. The rules progressively apply to dairy, pig, dairy support, beef and deer farms from this year to 2030 relative to the steepness of the country, at an expected cost of $367 million," Dr Smith says.

"We are today opening bids for the new $100m Freshwater Improvement Fund and announcing the eligibility and assessment criteria, which closes on 13 April. This comes on top of the $350m already committed by the government, of which more than $140m has been spent on specific river and lake clean-ups.

"This is the third phase of the Government's work programme to improve New Zealand freshwater management and builds on the NPS introduced in 2011 and the National Objectives Framework in 2014. I commend and acknowledge the Freshwater Iwi Leaders Group and the Land and Water Forum, who have worked tirelessly in assisting with these policy developments."

The detail of the NPS and Stock Exclusion Regulations are open for consultation until 28 April 2017.