Water tax debate would require decisions on ownership, allocations, charge fairness across industries, PM English says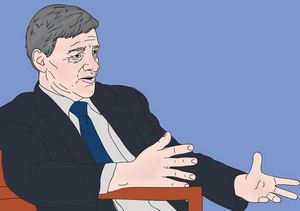 A proper debate on a water tax would first require agreement on the issue of who owns the resource, Prime Minister Bill English says.
Speaking on Radio NZ's Morning Report, English said the issue could be tackled, while indicating a view that the discussion needed to focus on a broader set of issues to the current bottled-export focus.
"That has raised all these other issues around allocation, who owns it, who should pay what for what, and [under] what circumstances. I can tell you, from grappling with these issues, that you've got to be quite careful to understand what you're doing," English said.
It would be tough charging one industry but not others, he said. "We have to sort out a systematic way of dealing with it and a tax on water needs a lot of work to be able to get to that point."
The critical issue of who owned water needed to be dealt with first. "The business of how you actually overturn a century or so, or more, of the law that no one owns the water, and no one actually pays for the water – they might pay for the usage of it, or the facilities, or the infrastructure – there's a lot of questions there that would have to be answered," English said.
"It's certainly not going to change before the [23 September] election. If only for the very basic issue of deciding who owns it, after decades of everyone being extremely sensitive to the idea that anyone owns the water," he said.
English noted work by the Land and Water Forum on allocations and charges had raised a number of issues that would need to be addressed. This work had indicated how complicated the debate was.
Meanwhile, English said the bottled-export debate needed to be separated from issues like the Havelock North water supply.
"I don't think the two issues are connected at all," he said. "In Havelock North, they have every right to have a secure and safe water system. There's an extensive enquiry going in to why it turned out that wasn't the case."
Water exporters using bottles or larger tanks were doing so legally, he noted. "They're doing it where there's a renewable resource. It's on a very small scale, and we've had a higher priority, which has been the quality of water for all our communities."