Bees and kiwifruit replace sheep and cows as the leading lights of the rural property market: Ruralvalue report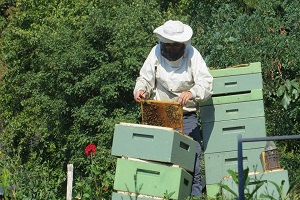 The market for dairy, beef and sheep farms is subdued, but land suitable for bee keeping and kiwifruit orchards is in high demand.
The latest report by Quotable Value's rural arm, Ruralvalue, said overall rural property values were trending down around the country.
"Sales volumes over the summer season have been lower than previous years in many farming sectors, including dairy, sheep and beef, and this has impacted on rural property values as the market is relatively subdued," Ruralvalue General Manager Richard Allen said.
"Farm owners are facing a number of compliance changes including in fresh water management, environmental impact controls such as levels of nitrogen, as well as proposed changes to IRD's farm expenses rules.
"All of this has created uncertainty in the rural land market and this is now being reflected in values, particularly in the dairy farming sector, which have continued on a downward trend and are now back to 2014/15 levels in most parts of New Zealand." he said.
However farms that were well irrigated and well maintained continued to sell well, but those with any issues around water or soil quality or where significant maintenance was needed, were more likely to be purchased by neighbouring farmers rather then selling 
However the kiwifruit and honey industries were providing highlights in an otherwise subdued market.
"Previously unproductive scrub bush country is now in high demand by apiarists looking to expand their bee farming to produce for the lucrative Manuka honey industry," Allen said.
See below for Ruralvalue's main regional commentaries:
Waikato region.

Ruralvalue Hamilton Valuer Nick Birdsall, said, "The rural property market is currently working through how they price the future impacts and operational risks of the Healthy Rivers – Wai Ora nutrient management plan, notified by Waikato Regional Council."
 
"Clearance rates at auctions for good quality dairy farms in and outside the nutrient management area increased sharply at the end of 2016, with strong interest continuing from adjoining owners."
 
"Since November 2016 average to above average properties have been achieving sales prices from $50,000-$70,000 per hectare (/ha)."
 
"While there is a lack of demand for lower quality properties (heavy peat soils, poor land development, future nutrient regulatory risks) and these have been selling for less than $40,000/ha (land only)."
 
"From an operational perspective a number of pastoral properties may be significantly affected by Waikato Regional Council's new Healthy Rivers through new waterway fencing liabilities, as well as from a land use change perspective.  Value implications are yet to be borne out of sales data." 
 
"In terms of sheep and beef farm sales, they've predominately been via negotiation rather than auction and value levels show farms are selling for between $6,000/ha to $14,000/ha (land only)." 
 
"This equates to a small increase in the value of sheep and beef farms in the areas compared with previous years.  It should be noted that sales of better quality properties are making up a larger portion of sales volumes, which is lifting the overall values in the region for this sector."
 
Manawatu/Whanganui region.

In the Manawatu/Whanganui region significant value increases have been seen in land suitable for apiarists and a small increase in the value of other rural land.
 
Ruralvalue Palmerston North Valuer Richie Guy said, "The success of the bee industry has seen an increase in demand from apiarists for bush and scrub blocks which have traditionally only been valued as unproductive land but now appear to be selling for value levels just below productive pastoral properties."
 
"While, there's only been a few recent sales of established dairy or pastoral blocks in the region over the summer season and the sales that have occurred indicate that properties are selling at or slightly above 2015 market levels."
 
"Economic hill country properties are selling for between $600-$800 per stock unit (/SU) or $3,500 -$8,000 /ha, and economic dairy properties appear to be selling in a range of $35-$50 per kilogram milk solid (kgMS) or $35,000-$50,000 /ha."
 
Canterbury region.

In Canterbury significant recent sales have also been achieved in land suitable for Manuka honey extraction in both Canterbury and Marlborough.
 
Ruralvalue Christchurch Valuer Todd Howden, said "Apiarists are paying a premium for native bush and certain classes of land unsuited for livestock production that would have otherwise been discounted and we will continue to watch this market closely."
 
"Meanwhile Canterbury dairy farm values have continued on a downward trend over the past six months and sales volumes are also down compared with previous seasons."
 
"Across the board dairy farm land values appear to be down around 5 to 10 percent on the market peak of the end of 2014."
 
"The sales that we have seen have come from a range of rural property types varying by size, scale, soil type, nature of improvements and availability of secured water." 
 
"Older run-down units that are lacking by way of required maintenance and improvements or those farms which are reliant on high supplement inputs coupled with short term water permits appear to be the most affected. An example of this was seen with a recent sale of two smaller units that were sold to adjoining arable farmers and that have both now been decommissioned."

"In contrast, quality tier one properties with long term water permits also located within a reliable irrigation scheme catchment are selling well for good prices." 
 
"Confidence in Canterbury dairy farms was still being underpinned through to early 2016, by a combination of low interest rates and enquiry for good quality dairy farms from corporate/investment fund entities." 
 
"Considering Fonterra's farm gate milk price forecast of $3.90 per kgMS FY16 and $4.25 FY17 respectively, it is likely that some of those farms offered to the market have endured an element of duress and/or bank pressure as a result of being overstretched."
 
"This includes the conversion of land in less traditional dairying localities within the Waimakariri and Hurunui Districts, which are more exposed to greater climatic risk."  
 
"The majority of Canterbury operators remain resilient with a sense of optimism on farm with Fonterra's November forecast update of $6.00 per kgMS."
 
"Future decisions to either purchase or sell farms will be largely driven by nitrogen loss (kg/N/ha) limitations which will hinder further intensification."
 
"We expect land values to adjust depending on a property's nitrogen baseline and any limitations where land use consent is required."  
 
"Arable properties and large acreages comprising of good soil with minimal building improvements, good irrigation infrastructure and reliable water still appear to be selling for relatively high levels, and are predominantly being purchased locally by adjoining or near adjoining farmers." 
 
"Farms that are limited by the regional ruling of the Canterbury Land and Water Regional Plan, are shying away from land use 'intensification' and instead looking to purchase more land for 'extensification'.
 
"This is leading to farm operators paying a premium for irrigated land covered by the nutrient discharge consent held by the providing irrigation scheme, or for property holding a long term permit to extract groundwater also with a high nitrogen baseline; which offers flexibility for the future. "
 
"Hill country, high country and dry stock finishing properties are relatively unaffected by the downturn. A number of North Canterbury hill country properties have been offered to the market in recent months and most have been selling well and this is again apparent by the volume of sales seen." 
 
Otago.

In Otago the dairy farm market is steady with preference for farms in the established dairying locations.
 
Ruralvalue Otago Registered Valuer Ian Harvey, said, "In Otago dairy farm values are generally back to the 2014 level and are selling anywhere from $26-$36 kgMS or $26,000 -$45,000/ha."
 
"Dairy farm vendors have to be patient as there are few purchasers around at the moment with buyer preference for units in the established dairying areas."
 
"Pastoral value levels are firm with a number of larger holdings on the market with harder dry hill country selling for $750-$850 per stock unit (/SU) and better finishing properties selling for $1,000-$1,500 /SU.
 
Southland.

The Southland rural market is also seeing a similar trend with value levels below 2015 levels and more properties on the market than vendor demand meaning it's more a buyers' market currently.
 
Ruralvalue Southland/Otago Registered Valuer David Paterson, said, "Good quality dairy farms in established areas have stabilised at levels established in 2015, poorer properties and those in secondary locations are struggling to sell and when they do they are at levels below those established in 2015."
 
"There are a high number of farms currently on the market and this would suggest a lack of demand and good choice for buyers in the market; the prospect of higher pay-outs does not appear to have encouraged new buyers into the market at this stage." 
 
"There is still reasonable demand for pastoral properties with a number sold late last year; prices have remained at established levels despite the poor outlook for meat and wool this season."
 
"There has been some movement in high country properties in Northern Southland and Central Otago recently after a long period on inactivity; four pastoral grazing properties are currently going through or have completed the sale process, with two high profile properties recently confirmed, ranging in price from $14-$20 million."
 
"These prices are well below the pre-2008 levels where there was strong interest for these types of properties from international buyers."
 
"There appears to be renewed interest for these properties as the vendor's asking prices become more aligned with buyer expectations; the sale of these properties is the exception rather than the rule and is not reflective of the general pastoral market."