The Sheep Deer and Cattle Report: Positive sheep market news and plentiful feed, improves farmer confidence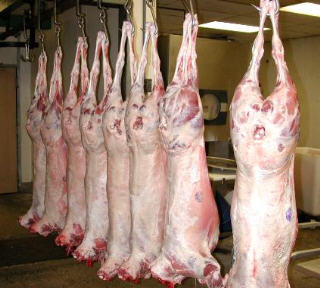 LAMB
More lifts in lamb schedules this week, as demand strengthened for frozen product, on the back of shortages in the main markets.
Local trade prices are also lifting and autumn lamb contracts are now being offered at $6/kg cwt.
Some store lamb sales are making prime prices, as demand for animals builds on the back of recent rains and high cattle values.
The rams are out in many northern areas and plentiful feed conditions should ensure a satisfactory mating.
NZ Binxi (Oamaru) has backed out of the takeover bid for Blue Sky Meats, and blames delays in OIO approval, and recent poor trading conditions from the company, as the reasons for the reversal.
The Rabobank farm confidence survey has seen a lift in farmer optimism in the sheep sector, with post Easter prospects now much brighter than first forecast.
Positive market news for lamb producers with the Iranian market to reopen next year and the Chinese signing a chilled meat deal that should increase the competition for higher priced cuts.
The Korean rabbit virus is due for release in Canterbury and Otago  in March 2018, and this will be not a moment too soon to use this tool to control this damaging farm pest.
WOOL
Last week's South Island auction saw prices lift slightly, but still there was only an 82% clearance from wool sold on the day.
NZ Wool Services International reports that it believes the recent price rises are being pushed by speculators not demand driven, and that storage space for unsold wool is getting limited, and encourages farmers to store on farm.
They also report the merger of wool scouring facilities is now complete and growers will be hopeful cost efficencies will transfer back to the farm gate.
BEEF
More small lifts for some beef classes this week, as the Brazilian meat scandal and subsequent ban from Asian importers, could have a positive effect on demand for beef from NZ.
Big lifts in South Island local trade schedules last week is driving the sale of prime stock at local saleyards, as export beef prices are tracking at record levels for the month.
Analysts are optimistic this beef run will continue well into the first half of 2017, as low slaughter rates especially from cull cows has kept demand strong from the US.
Record prices have been achieved for weaner calves at northern venues, as the bouyant beef market combined with plentiful feed, drives prices upward for all store beef cattle.
With the takeover bid for Blue Sky Meats falling over, the future of that companies Gore beef processing plant looks at risk, as the intense procurement competition looks to take its toll of small plants.
DEER
Another schedule lift for venison this week, again illustrating supply shortages, as the sector reports the MPI are happy with progress in the Passion 2 Profit partnership, that looks to improve financial performance within the sector.
This partnership has seen 24 advance parties established, (double the projected number) and these have identified many areas of management that will improve the bottom line of participants and followers.
Good colaboration with the venison processing and export companies has been important to relay market trends back to the farm gate.
Velvet  producers will have new hygiene standards to improve on next season, after the Chinese audit of the supply chain recognized improvements were needed in that area.