Allan Barber warns of "a hell of a shame" if New Zealand's reputation was destroyed by farmers, agents and processors succumbing to the temptation to sell and buy out-of-specification product from saleyards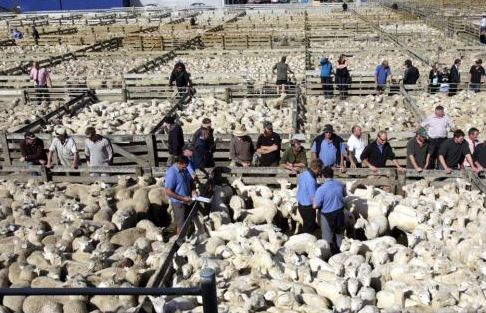 By Allan Barber*
In spite of pre-season protestations of good processor behaviour, the current environment means lamb procurement competition is tougher than it has been for several years.
Circumstances have combined to produce a perfect storm.
It isn't just because of a declining lamb kill, forecast to reach only 19.5 million nationally this season, but a number of other factors are influencing the situation.
The wet weather, particularly in the North Island, has made drafting difficult, as well as enabling farmers to keep lambs on farm and put on extra weight; the slow flow of lambs makes it difficult for exporters to fill orders and meet shipping schedules. The competition means some farmers take the saleyard route where they can take advantage of high prices for lambs they would normally send direct to slaughter, although some of these are bought by short finishers who reckon they can put another kilo or two on with all the grass around.
These options aren't good for farmers in the long term, as they suck margin out of the pockets of both farmers and processors, as well as ensuring many of these lambs are outside specification. A short term benefit to the seller is the avoidance of grading, as the lambs are sold on an all weights and grades basis. This produces a brief sense of prosperity for those farmers who decide to take advantage of the situation, as well as making it harder for exporters to be able to buy to market specification.
A meat industry observer says the incidence of saleyard activity has become increasingly pronounced in the last few weeks, evolving from a situation where farmers would previously send their main draft to the works and put the heavy and overfat lambs through the yards. Unfortunately for the meat processors, they received such a good premium on the off grades that they then decided to send all their lambs to the yards. The effect on profit and product specification has not been good.
Although the number of lambs being bought at the saleyards for slaughter is only a small percentage of the total lamb kill during any given week, the price these lambs are able to command – as high as $132 per lamb at an early April Feilding sale – is completely out of kilter with both the market and company schedules. But this is a direct result of agent activity with one of the major processor/exporters contracting three agents to buy on its behalf.
So the meat companies have to make a choice between some unpalatable alternatives: either pay an unsustainable premium, buy through a third party agent or at the saleyards, accepting all weights and grades. For companies which provide slaughter capacity at times of peak throughput, their only hope is to see a seasonal peak which will enable them to stop paying more than is justified by the market. The situation will eventually resolve itself when winter kicks in and grass is no longer growing.
When times are tough for procurement, it takes a strong meat company to resist the use of third party agents. This is understandable; what is difficult to understand is why they would sanction bidding unsustainable prices in the yards for all weights and grades which are bound to be outside specification. CEO Dean Hamilton confirmed to me Silver Fern Farms has longstanding arrangements with agents, as do a number of the company's suppliers, but is committed to a continuation of the trend in recent years which has seen the percentage of third party agent stock procurement decrease from 15% to 10% of company throughput.
However he also said the current situation was a consequence of unusually plentiful grass growth in both islands which meant farmers were having problems sourcing replacement stock and there was a tendency to hold on to make a bit more margin. This entails several risks from speculating on the gains from holding product on farm – weather, market and currency.
The problem gets worse with the continuing decline in sheep numbers which becomes harder every season to reverse. There is a danger commission agents will benefit increasingly from the smaller sheep population which will produce more competition for lambs. Meat companies have tried to move towards their own livestock procurement teams because these buyers can focus on procurement to meet market specification. Out of specification product will damage an exporter's reputation for quality and reliability.
New Zealand's reputation for quality and consumer appreciation of lamb as a high quality eating experience is also at stake. When NAIT was introduced its main purpose was to minimise the spread of disease outbreak, but today the ability to demonstrate the integrity of the product from farm to plate is at least of equal importance. Beef + Lamb NZ's latest Market Development report begins "The Red Meat Story will create a country-of-origin value proposition, positioning New Zealand beef and lamb as a premium food choice, globally. Today' s modern meat customer is asking where has this product come from? How was it raised? Is it safe for my family to eat?"
The integrity of the Red Meat Story will be underpinned by the work of the Red Meat Profit Partnership on introducing the Farm Assurance Programme across the meat industry. It would be a hell of a shame if New Zealand's reputation was destroyed by farmers, agents and processors succumbing to the temptation to sell and buy out of specification product from saleyards.
---
To subscribe to our weekly Rural email, enter your email address here.
---
Farms For Sale: the most up-to-date and comprehensive listing of working farms in New Zealand, here »
---
Here are some links for updated prices for
- lamb
- beef
- deer
- wool
---
*Allan Barber is a commentator on agribusiness, especially the meat industry, and lives in the Matakana Wine Country. He is chairman of the Warkworth A&P Show Committee. You can contact him by email at allan@barberstrategic.co.nz or read his blog here ». This article was first published in Farmers Weekly. It is here with permission.