Keith Woodford says Dutch dairy farms prosper despite modest subsidies, tight regulation, by a focus on science, highly educated farmers and a strong sense of social responsibility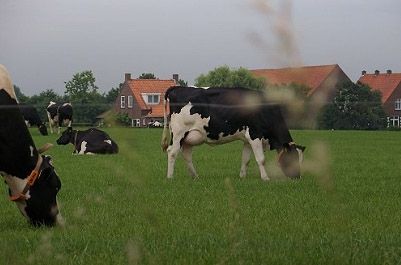 By Keith Woodford*

In late May, I was in Holland with colleagues from Calder Stewart as part of a self-education project on hybrid dairy systems. These systems involve 12-month production of milk from the combination of grazing and off-paddock systems.
One of the first lessons we learned is that many Dutch cows graze below sea level. The north-western half of Holland is almost totally below sea level apart from artificial man-made structures called polders. In these regions, the pastures lie three to five metres below sea level. There is an English saying that God made the earth, but the Dutch made Holland.
The Dutch started building dikes some 700 years ago and they have never stopped. During that time, the sea level has been steadily rising at about three millimetres each year as Earth has continued its long-term emergence from the Ice Age. 
Dutch dairy markets are about 35 percent internal and 65 percent exports. There are no price supports. However, Dutch dairy farmers do receive European Union grants of about 400 euros (roughly $NZ650) per hectare for environmental management. Hence, there are lots of trees, the paddocks are small, and the rules around effluent are very strict. 
There are many effluent management actions that New Zealand farmers can do which Dutch farmers cannot do. Accordingly, Dutch dairy farms need lots of effluent storage – for up to eight months.  Most of this is held beneath the dairy barn in huge tanks. The barns are airy and there is little smell.
Livestock numbers (adjusted for breed liveweight) are increasingly regulated based on assessed phosphate loadings.  These phosphate allowances can be bought and sold – they become a licence to farm. Just as in New Zealand in relation to new nutrient limits, there is lots of controversy.
One of the farmers we visited, who commenced a development program prior to the new regulations, has successfully sued the Dutch Government for an increased phosphate allowance. This has sent shock waves through the system, and the Government will undoubtedly mount an appeal through higher courts.
Per hectare production is high from a combination of feed grown on-farm plus bought-in supplements. A typical farm would run two large Holsteins (the large cousins of Friesians) plus young stock per hectare, and produce about 18,000 litres of milk (1350 kg fat plus protein) per hectare.
The industry structure has similarities to New Zealand. FrieslandCampina is the dominant co-operative with a 65 percent market share. CRV (which operates in New Zealand as CRV Ambreed) is the dominant farmer-owned herd improvement co-operative, similar to New Zealand's LIC (Livestock Improvement Corporation), and is one of the 'big three' global suppliers of dairy semen.
Like New Zealand, the Dutch industry has had an increasing focus on China, but with infant formula as the key value-add product. They are happy to leave the commodities to New Zealand.
On our trip, we received great support from the CRV team who took us to a range of farmers who were pushing the envelope in various directions. These included high production farms with cows averaging over 850 kg milksolids (fat plus protein) per 305-day lactation, organic farms with somewhat lower production and higher costs, and hybrid farms with various levels of grazing.
Farmers who have their cows outside for at least six hours per day for at least 120 days of the year receive a price premium of 1.5 euros per litre paid by their processor, which is about five percent above the standard price. However, this 'grass-fed' milk is not kept separate from other milk. Rather, it provides a market story that Dutch cows lead a happy outside-life together with nice pictures for dairy-product labelling.
Unlike New Zealand, the urban community seems generally supportive of dairy industry practices. There is a sub-group of 'urbanista bovinophobes' who believe no animals should be farmed, but farmers and farming are generally held in high regard. This favourable situation has not been achieved by chance. Animal welfare standards and environmental management standards are both very high. The farms are exceptionally tidy.
There are a few Dutch farmers using similar grazing systems to in New Zealand, and we found ourselves talking about grazing mass, the three-leaf stage and residuals, just as in New Zealand. However, there is much less synchrony over there between pasture supply and cow feed demand. The Dutch pastures lie dormant for up four months or more, and then bolt away in spring. When we were there in late May, grass production was about 140 kg dry mater per hectare per day – enough to feed about seven cows each day at that time of year for each hectare.
Robot milking is very common. On one farm with two herds side by side, the robotically-milked cows produce about seven percent more than the human-milked cows. This is largely as a result of additional milkings which the robotically-milked cows choose of their own accord. 
A key reason for robotic-milking is labour reduction and lifestyle. Unlike in America, dairy farm labour is very expensive. Most farmers rely on family labour.
The farms we visited were typically of about 100 cows, but across all of Holland the average farm is somewhat smaller than this. These are big cows - typically 650 to 700 kg, and sometimes more. And they produce a lot of milk. 
Land is expensive – it can be anywhere from 45,000 euros per hectare to over 80,000 euros per hectare. So, it is not surprising that the Dutch have spread out across the dairy world in search of new opportunities.  It seems that the Dutch and dairying go together.
The level of science and technology application are very impressive on the farms we saw. The farm families are making a success of their lives. One farmer told us that he needed a price of about 32 euro cents per kg (about $NZ6.50 per kg milksolids) to be profitable.  He said his purchased feed cost him nine euro cents per litre of milk produced, his other costs including his own salary came to 14 euro cents, and interest plus debt reduction was another nine euro cents. Right now, he is getting 36 euro cents. However, a year ago he was only getting 25 euro cents and life was tough.
Genomic selection of bulls based on DNA testing is increasingly favoured, and works sufficiently well such that progeny testing of bulls is now minimal. Farmers can choose their own selection criteria, with good feet and good udder conformation being highly favoured. The selection system works because the Dutch, working with other European countries, now know which genes affect these specific characteristics. (In New Zealand, the equivalent information for our cows in our environment is currently less reliable.)
Famers also select strongly for bulls that will produce cows of high longevity so as to reduce the number of replacement stock that need to be raised. They are already achieving cow longevity similar to New Zealand when measured in years, but with almost double the lifetime milk production given the high annual lactation yields.
My overall impression of Dutch dairy farming is strongly positive. They have got their act together, with a focus on lots of science, well-educated farmers, and an understanding that they have to do things right if they are to retain a social licence from the rest of the community.
If there is an Achilles heel to Dutch dairying, it is the small size of the farms, and the long cold winters. These farms lie at a northern hemisphere latitude equivalent to 650 km south of Invercargill.    
In New Zealand, the counter claim to Dutch efficiency will be that the Dutch get big subsidies. But by my calculations, these grants comprise less than seven percent of income on highly productive farms, and they do come with obligations. I think we have lots to learn.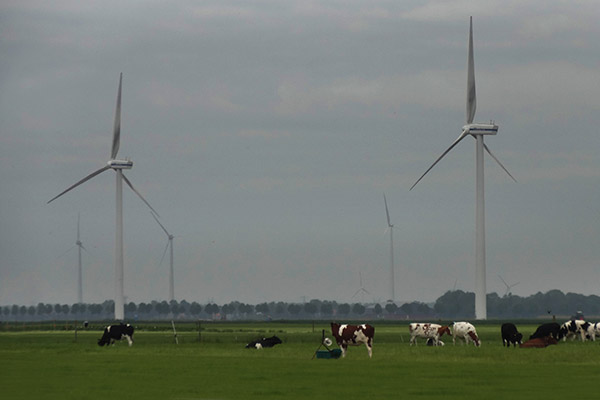 Cows and wind turbines epitomise the Netherlands countryside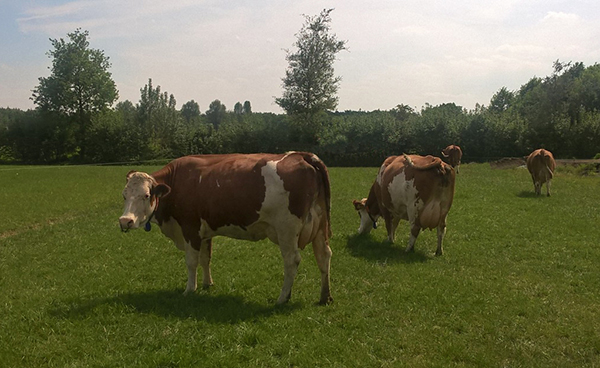 Fleckvieh dual purpose (dairy plus beef) cows on a Dutch organic dairy farm
---
*Keith Woodford is an independent consultant who holds honorary positions as Professor of Agri-Food Systems at Lincoln University and Senior Research Fellow at the Contemporary China Research Centre at Victoria University.  His articles are archived at http://keithwoodford.wordpress.com. You can contact him directly here.