The Weekly Dairy Report: Calving starts up north with some short of grass while conditions on target for cows and pasture down south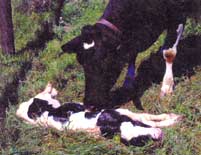 The weather during June in Canterbury produced only 8 dry days and conditions on the heavier soils remain puggy and cold.
Few frosts were experienced during the month, but now, July starts with a heavy blanket of snow on the hills.
Many other regions up north have experienced similar conditions, and with calving starting soon, some are reporting lower than planned feed covers.
DairyNZ advisers suggest it is important to stick with spring rotation planner during calving, and supplementing the deficit with maize or pasture silage, to allow regrowth to build.
This will be more difficult now that pke use is restricted, but other  more expensive alternatives are economically viable at the forecast milk price.
They also advise applying N fertiliser to boost feed, but warn not to spread when temperatures are below 7 degrees C, and avoid spreading in rainy periods to reduce the risk of product being washed into the waterways.
Magnesium supplementation will have started both by dusting on the pasture and via troughs as a preventaive to prevent problems at calving.
The heavy roller is out on dairy pastures during the winter break in the south, as many are now just over a month from calving.
Most are reporting feed covers on the milking platform are on target for calving, as staff are busy catching up on maintenance and winter holidays.
The latest auction results retained their holding pattern as of late, with only a slight decrease in the overall index. Pleasingly however, whole milk powder  prices lifted 2.6% to $US3111/tonne, and reversed the previous two auction price falls.
ASB continue to predict a $6.75/kg ms result for this oncoming season, and at this level most will be farming very profitably.
Stocks of calf skins are high from last year, and Slink Skin Southland advises they will no longer pick up casualty calves and lambs in the spring, as demand from the fashion industry wanes for this type of leather.
Bobby calves are now being traded again at northern saleyards fom early calving herds and attracting good money, as the demand for dairy x animals continues from the beef sector.
The interest in once a day milking is growing with big numbers attending a seminar up north, and researchers reporting the choice of cows is more important than the breed, for this system change.