Allan Barber reports there is real proof it's worth breeding good white faced calves for the beef industry, and reducing the number of bobbies to the works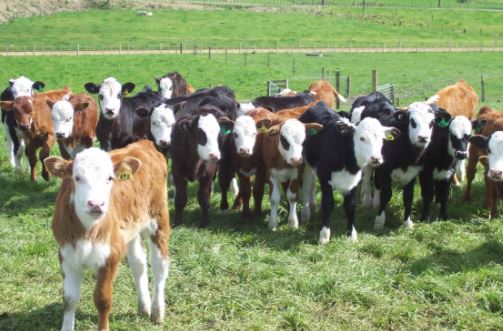 By Allan Barber

This calving season is a good time for dairy farmers to think seriously about their options and give consideration to new profit opportunities.
Recent work with dairy beef cross calves shows not only can these produce good additional income in their own right, but a well-planned mating programme also generates better milk production.
The Dairy Beef Integration project, conducted over five years by AgResearch and funded by Beef + Lamb NZ's Mid-Northern Farmer Council with the assistance of LIC and Ezicalve Hereford sires, has demonstrated the vast benefit of separating the bottom end of the herd at the start of the breeding season for artificial insemination by bulls of proven performance with a short gestation period.
The research proved there is a difference of 160 kg of milk solids between the top and bottom 25% of the herd; it is necessary to extend the breeding period by up to 10 days to achieve the desired number of heifer replacements, but it ensures lower quality cows aren't retained beyond their peak productivity. It also applies selection pressure which lifts the genetic gains.
Although rearing bull beef calves has been a regular feature of every dairy herd mating season, it has mostly happened because calf rearers took the initiative and ensured they could access a supply of good sized white face bull calves from farms in their area. Most dairy farmers took the view they would keep the best heifer calves as replacements plus a few bulls for breeding purposes, while the rest would go on the bobby calf truck. It took a determined rearer to make sure a few dairy farmers kept the heavier bull calves for sale.
So far this season there has been a 60% increase in beef semen straws ordered from LIC and a sizeable increase in orders from Ambreed which indicates an increase in dairy farmer uptake. Up front good bull calves can conservatively command from $150 to as high as $275 compared with about $30 for a four day old bobby.
The meat industry has long recognised the importance of the dairy industry as a source of the next generation of beef cattle, with an emphasis on bull beef for the American market, but acknowledgement of the value of dairy cross animals for prime beef has come more slowly. With the static nature of the prime beef herd for many years as a result of sheep and beef farm conversion, it now becomes imperative for the dairy and red meat industries to work closely together to ensure there are sufficient beef calves of good quality to satisfy future demand.
Chris Lewis, Chairman of Federated Farmers Dairy Section, tells me how he has adapted his annual breeding programme to take advantage of the knowledge that is now available to help improve performance across the board. He says the bobby calf issue will only attract more attention in the future and it makes sense to front foot that, by increasing the number of beef calves and reducing the number of bobbies to the works.
Lewis also says biosecurity will become more important, especially since the detection of Mycoplasma bovis in South Canterbury. Closed herds will become popular for beef farmers wanting to buy bull calves direct instead of through the saleyards, so it will be essential to pair up with a dairy farmer with a closed herd.
They run 1150 cows on the Lewis farms for which they have traditionally reared 250 heifer replacements plus 250 bull calves for dry stock farming, but have now downsized to 250 heifer calves and 150 bull calves to rear on and sell to rearers. This year about the beginning of November at the end of the AB programme Lewis intends to artificially inseminate 300 cows with Hereford straws, 100 from Ezicalve,  and 2 Ambreed Hereford bulls 100 each, which will enable comparisons to see which produces the best results. There are other options like Wagyu and Angus which have proved to have high performance when crossed with Friesian cows with a high marbling ability.
In the past dairy farmers have been discouraged from paying too much attention to the benefits of breeding good white faced calves for the beef industry, both because of the extra work involved and low prices. Now there is real proof it's worth doing.
---
This article was first published in Dairy Exporter and is here with permission.