The Weekly Dairy Report: Synlaits result good, Fonterra's average, but the weak milk supply from the wet spring is everyone's concern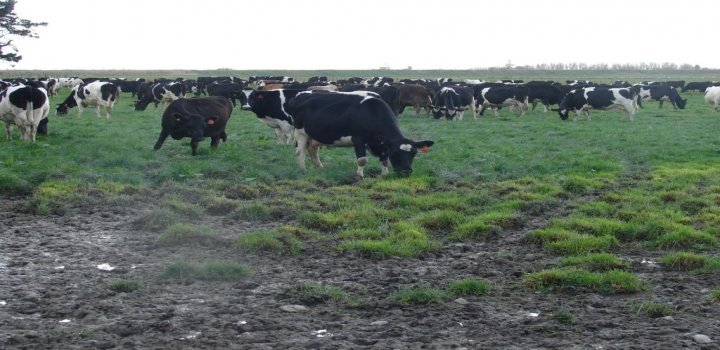 This week forecasters predict strong winds, little rain, and warmer temperatures, and that is exactly what is needed to reduce soft soils and stimulate spring growth.
Most are still supplementing pasture with silage, and some have been prevented from applying fertilizer N, because it is too wet for truck application.
Northern producers have been commenting that "the grass lacks substance" with the wet, and many are finding cow condition is slipping right at the wrong time, as they move close to mating.
Some have gone back to 'once a day" to help remedy this condition score loss, and with palm kernel use now restricted, feed grains and meal have been used more extensively.
National August milk production is down, and the ASB predicts Septembers could be too, and if this trend continues they suggest the forecast could rise to $7/kg/ms.
While the derivative market pointed to an easing for whole milk powders, last week's auction revealed a small lift, and more 'steady as you' go pricing.
Butter lead the way with it's 8th record high, whole milk powder pricing lifted inspite of increasing volumes, but skim milk powder remains in the doldrums on the back of high European stockpiles.
Fonterra's result was back from last years level, but considering their payout to farmers confirmed at $6.52/kg/ms, was deemed a satisfactory result. The cash dividend was confirmed at the previously indicated 0.40c/share but with profit and return on capital back, analysts rated the result only average.
With a reafirmation of their $6.75 2017/18 forecast and share estimation at a similar level, this year will be pivotable for the co-operative, especially if this slow spring milk flow continues.
Synlait Milk continue to impress with an improved profit, and a record share price after debt was slashed. Their revenue and margins improved, and they announced further investment in packaging of their infant formula product, to move further down the value chain.
MPI reports that they have done 20,000 tests for the mycoplasma bovis outbreak in South Canterbury, and show how committed they are to eliminating this disease from New Zealand.
International trade watchers will be following the start of the NAFT negotiations involving big dairy producers the US, Canada, and Mexico, and if Trump influences these talks there could be implications for NZ dairy.
Big Aussie Co-Op Murray Goulburn is up for sale after losing the confidence of it's suppliers, and it has been reported Fonterra Australia will put in a bid.