The Sheep Deer and Cattle Report: The first spring lambs hit the market and the insulation qualities of crossbred wool allows for an alternative use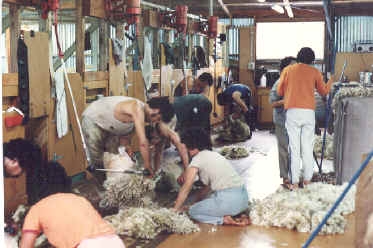 LAMB
A week of stable schedules shows prices must be near the peak, and with last season's lambs changing to hoggets, and spring lambs to appear by the end of the month, a new year starts.
Hot dry weather is required to boost growth rates in these early lambs, and if temperatures do lift, controlling grass growth and quality will be a challenge with these levels of soil moisture.
Small numbers of spring lambs are appearing in selected North Island saleyards and have attracted bids averaging around a $150/hd and at a premium to the hoggets offered.
Alliance reports this years pricing should sit in the $5.90-$7/kg/cwt range, with peaks driven by the Christmas and Easter consumption period.
They also warn that the buy British campaign, post Brexit, has had a negative effect on NZ's lamb being sold into that market.
Mutton schedules lifted again this week, driven by strong demand for chilled carcass product shipped into China.
WOOL
More of the same at the South Island wool auction, with fine crossbred hogget wools down again in price, and only 72% of the offering sold.
With such grim short term prospects for crossbred wool, the announcement this week that a company has developed wool filled building panels and chilly bins in the United States, utilizing the excellent insulation qualities from these types of wools, will be welcome news.
The message that they believe they could pay 3-4 times the present price for crossbred wool and still remain profitable, will give growers some hope for the future of their product.
BEEF
Some more easing of prime beef schedules, but bull and manufacturing beef was stable, as a lower currency and firmer demand out of the US, helped.
Local trade schedules in the south also eased, but values are keeping exporters honest, before the large, late spring volumes start.
South Island saleyard prime steers have been averaging over $3/kg lwt now for two months, and those that have been able to grow these heavy cattle over the wet winter, have been well rewarded for their effort.
The 100kg dairy beef calf market will soon start and early interest is strong both from the saleyard spot market and with contracts.
Yearling and 2 year old bull sales were strong in the south with both ages attracting good support from breeders looking to expand their herd and dairy farmers keen to add more value to their bobby calves.
DEER
The limited supply of quality animals has driven venison prices further, with one company paying over $10/kg/cwt this week.
Venison contracts are being offered later into Jan/February, and this has allowed farmers to harvest spiker velvet at the correct time, and improve returns for these young animals.
Velvet exporters report a good level of early interest for product, on the back of increasing Chinese consumption and low levels of stocks in Korea.
With the Chinese now more tolerant of larger sticks of velvet, and confidence the small increase in NZ's production has a market, growers are hopeful some of last year's price fall can be recovered.