The Weekly Dairy Report: Large areas of the country are very dry, as auction prices recognise production may fall unless rain comes soon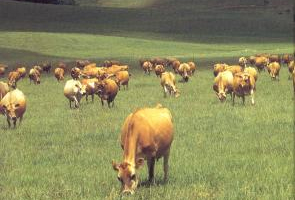 DAIRY
More very hot days and little rain raises concerns that a long and severe drought is building, and all farmers are being urged to plan for feed shortages this summer.
Most of the country is sitting 30-50mm drier than normal, and soil conditions in many areas are at moisture levels normally seen in February.
Pasture growth rates are falling even with irrigation, as the dominant ryegrass pastures fail to perform in very hot conditions.
Many are recording lower yields of conserved silage, and combined with summer and winter crops that were later sown, the ingredients for a feed shortage look likely.
Advisors suggest Christmas  break rosters should all be in place now and also advise to check stock water schemes for leaks before summer proper starts.  
Fonterra announced it's pre Christmas update on the forecast, and as many predicted it fell to $6.40/kg/ms, in response to recent dairy commodity price drops.
Combined with the dividend cut, this prediction has taken millions out of the dairy economy, and the dry could produce the double whammy of a price and production fall.
For a few the dairy debt is still far to high, and leaves them business vulnerable in these volatile times, especially as the banks appear less sympathetic to help this group as they were in the past.
Last weeks auction result was positive for the first time in last five events, as the lowering volumes and dry predictions shortened the supply forecasts and increased demand.
The dairy farm open day was well supported, in the sectors endeavour's to educate urban New Zealand on how they are solving the environmental issues of intensive farming.
The mycobovis outbreak got worse overnight as more farms in Southland, Ashburton, and the Hawkes Bay have tested positive to this disease.
Reports suggest all these animals have come from the original source farms in South Canterbury, but all farmers will be concerned as to whether the NAIT movement of stock scheme has worked, and this outbreak can be contained.