What a difference a day makes. Days of rain have underpinned the store market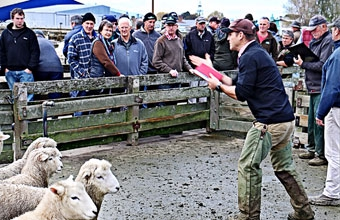 Lamb
Recent wide spread rainfall has arrested the drop in the store markets and taken pressure off the strong demand for killing space. Before the Christmas shut down rumours were flowing of farmers who were stocked with contract finishing lambs pushing processors to unload or not accepting any, which was leaving some agents a little embarrassed. Schedule prices have been trimmed but still are at historically high levels. Given the current grass growth rates farmers now have options and all positive.
This is now being reflected in breeding ewe prices with prices up to $250 being achieved at Stortford lodge last week and over $25 up on average up on pre- Christmas.
Wool
Wool however, continues to disappoint, especially at crossbred levels and there must be a limit as to how much blood this proverbial stone can give. Given the low pass in rate of 10% farmers appear to have given up hope of an upturn any time soon. Lambs wool and the mid-micron wools are providing more hope with most classes lifting about 2% and 28 to 30 microns up 8%.
Deer
Deer continues to truck along as prior to the break and any market reticence to the high prices has yet to be expressed in the schedule The velvet prices are yet to be revealed in the new year but based upon last year's demand  there is no reason to expect any major drops.
Cattle
Store prices appear to have come back in line with schedule prices although still relatively strong and as with lamb the recent rains and the prospect of more on the horizon means the remaining season should be a good one.
The further spread of Mycoplasma bovis within the dairy industry must be of concern to beef farmers, however to date little formal conversations appear to be including them. With the testing regime based around milk samples this will be a little difficult on most beef farms.
Finally, a farewell to Sir Graeme Harrison founder and retiring chairman of ANZCO. This is a company that has had a profound and positive impact upon the New Zealand beef industry and hopefully Sir Graeme will enjoy his extra free time.