Real science puts agricultural methane in its proper place as a contributor to greenhouse gas emmissions, a 'flow' pollutant and less concerning than 'stock' pollutants like carbon dioxide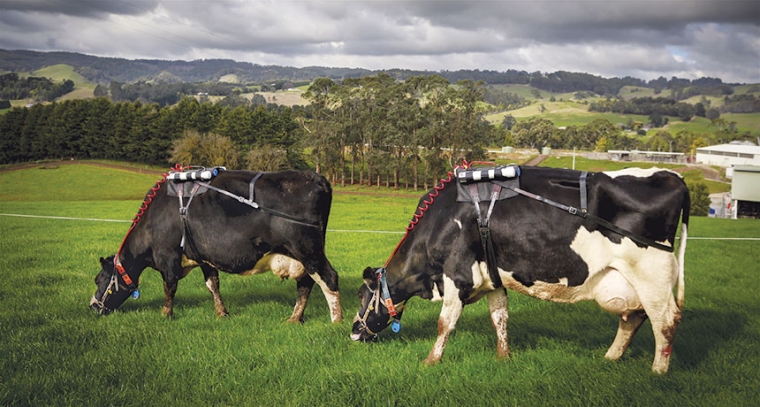 Farmers have been quietly nervous about the Governments aspirations of zero net Greenhouse Gas (GHG) emissions by 2050. With agriculture's GHG emissions making up approximately 48% of the total nations emissions, most farmers recognised that they would be dragged into the program at some time.
So, it should have come with considerable relief to hear the report expressed by Professor David Frame from Victoria University. In research he has been involved in along with Oxford and Reading Universities and Norway's Centre for International Climatic and Environmental Research, he stated there was clear evidence in the way methane, which makes up the bulk of agricultures emissions, needs to be reviewed.
Methane makes up around 42% (under current measuring) of New Zealand's GHG emissions and for livestock farmers has been the more difficult of the gases to reduce.
The new research promotes the view that methane in the New Zealand livestock context is a "flow" pollutant, i.e. as fast as it goes into the atmosphere a similar amount is coming out, and so has not been responsible for the build up GHG stocks in the atmosphere since 1990, which is the time frame legislation is concerned with.
CO2, for example, is a stock pollutant and over 40% of CO2 emissions remain in the atmosphere for 1,000 years. Methane has a half life (reducing to 50% ) of about 10 years.
Not all interest groups are going to welcome this news, but for a change some of the heat should be coming off farming at least in the environmental context.
Andrew Hoggard of Federated farmers welcomed the news and said it was gratifying to see distinctions made between intensive but short lived greenhouse gases, like methane, and weaker, but persistent, gases like carbon dioxide. "There is this better understanding of the fact that a short-lived gas has a different impact from a long-lived gas and you have to treat them differently."
A Greenpeace spokesperson saw it as a "cope out" by Government.
Farmers still have to deal with nitrous oxide which makes up about 30% of livestock emissions, but as this requires going through the soil before volitsation occurs there is more opportunity to act upon and reduce its impact. Dicyandiamide (DCD) also known as EcoN, a product primarily developed to enhance the effectiveness of nitrogen applied to pasture also had the ability to reduce nitrate leaching and also the volitsation of nitrogen into nitrous oxide (N2O). Reductions ranging from 18% to 74% have been recorded. Unfortunately DCD's were withdrawn from use in 2013 when traces of DCD was found in New Zealand milk and don't appear to be able to be used anytime soon. However, DCD's have alerted scientists and others to the possibilities of some form of intervention.
SHEEP
Some lifts in the lamb schedules this week closing the gap between advertised schedule returns and what saleyards are paying. A small lift, again, in saleyards with top lambs exceeding $200 in several South Island sales and with lighter lambs being pulled up also. The North Island seems to be losing some of the heat of previous weeks.
WOOL
The Christchurch wool sale last week was close to the previous Christchurch sale, however the better lambs wool that remains experienced a small lift in prices.
BEEF
Given the upward trend of the US dollar and increase cow kill from the MPB cull it was a pleasant surprise to see some processors lifting the price for cow. No movement on the prime front with local demand dropping off.
DEER
No change to the venison schedule. However, minimum price schedules are now out from one company. It will be interesting to see how these compare to the advertised schedule.